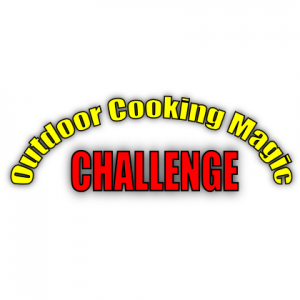 I'm starting something new on my website, something to stretch me, something to have fun with, and something to show that you can cook anything outdoors.  It's called the Outdoor Cooking Magic Challenge.
Here's how it works.  Each week I'll randomly select a recipe to be cooked outdoors and then sometime during the week, I'll cook it and document what I did.  I'll announce the dish here and on YouTube.  I'll select the recipe "live" on YouTube, document it here as well, and then do a video of what I did to cook it.
Since you can do Video Responses in YouTube, if any of you are adventurous, follow along and cook the dish as well and then share what you did.  Even if you don't want to video you cooking it, you could do a short video just talking about what you did.  And you can post your thoughts and ideas in the comments for the post or video.
I'm not going to hold anything back--you're going to see the good, the bad, and the ugly.  I'm planning on having someone there at the end to taste the dish and tell me how it is.  I'll give some critiques as well and some thoughts for the next time I try the dish.
I think this is going to be fun AND be a challenge.  I created the first video to kick us off.  I hope enjoy this!
The first recipe that I randomly picked was Swiss Steak.   Whew!  A nice easy one to start off with.  I was worried that I'd get something extremely exotic.  I'll include the ingredients below and some general instructions.  I'm going to take the liberty of modifying the recipe and adapting it as needed to cook outdoors.
Author:
Betty Crocker's Cookbook
Prep time:
Cook time:
Total time:
Ingredients
3 tbsp flour
1 tsp dry mustard
½ tsp salt
1½ lb beef (boneless round, tip, or chuck steak)
2 tbsp oil
1 can (16 oz) whole tomatoes
2 cloves garlic, finely chopped
1 cup water
1 large onion, sliced
1 large green pepper, sliced
Instructions
Make a mixture out of the flour, mustard, and salt, and sprinkle both sides of the beef, pounding it in.
Cut beef into 6 pieces.
Cook beef in hot oil until brown
Add tomatoes, garlic.
Heat to boiling and then reduce to simmer.
Cover and simmer until tender, about 1¼ hours.
Add rest on ingredients (water, onion, green pepper)
Simmer until tender.
The challenge is on!  Let's see what we come up with !

If you are interested in getting the cookbook I got this recipe from, please click here.