Previously I discussed
what to look for in a dutch oven
.  Now that you know that, we'll talk about what
dutch oven brands
to look for when you are buying a dutch oven and then I'll give you some suggestions of places to
buy a dutch oven
.
Dutch Oven Brands
There are several well-known Dutch oven brands that meet the criteria that I've laid out above.  You can certainly find other off-brands, but the following brands are recognized as producing quality cast iron cookware and, in general, you won't go wrong by purchasing one of the these dutch oven brands.
Lodge

Lodge Cast Iron has been making cast iron cookware for over 100 years.  In fact, some of the skillets, griddles, and dutch ovens made over 100 years ago are still in use today.   A Lodge cast iron skillet was listed by Esquire magazine as one of the top items all men should own!
Lodge dutch ovens come in 8 sizes, ranging from a 1 qt, 6 5/8" diameter dutch oven to a 12 quart 16" diameter oven.  Lodge dutch ovens also have the advantage that they come already pre-seasoned so that you don't have season it before you start using it.
Quite simply, you won't go wrong by buying a Lodge dutch oven.  They are probably the highest quality, most popular camp style dutch oven made.  As long as you get one that is made for camping (with the flat, rimmed lid), it will have all the characteristics of a good dutch oven as I described above.
Camp Chef

Camp Chef is another popular manufacturer of dutch ovens.  Camp Chef is known for their camp propane stoves, but they also make a quality dutch oven as well.  Their dutch ovens also come pre-seasoned and provide great quality for a great price.  The Camp Chef Lewis & Clark 12-quart Dutch Oven is one of the more popular of the Camp Chef models.
Like Lodge, you won't go wrong by buying a Camp Chef Dutch oven.
MACA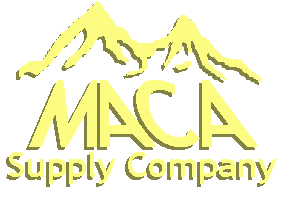 The last Dutch Oven brand that I'll discuss is MACA.  Like Lodge and Camp Chef, MACA also makes a high quality dutch oven.  They tend to be a little bit more expensive, but that may be due to the fact that MACA dutch ovens appear to be built with a bit more metal than the other brands.  This provides the advantage of significantly reducing burning, and the ability to absorb, distribute and retain heat better than most other dutch ovens.
A heaver lid provides more pressure which keeps the moisture inside the oven, making your dish tender and moist.
MACA dutch ovens are usually deeper than other Dutch ovens, which gives you a bit more versatility.  Where a 12" Lodge oven is either 3.75" or 5" deep, a 13" MACA dutch oven is 6.5" deep.  You can feed a large crowd with what you can cook in them, or even do a Thanksgiving Turkey, whole racks or ribs, or a large ham.
You can even order MACA dutch oven with a custom cast lid as as a gift.
My Recommendation
In general, my recommendation for getting started with Dutch oven cooking would be to buy a 12 inch Lodge cast iron dutch oven.  You might find cheaper ovens, but you will join thousands of other Dutch oven enthusiasts that know and trust Lodge.   You'll get a quality, versatile Dutch oven that will serve you well for years on end.
Try the other brands after you have wet your feet and learned dutch oven cooking with a standard, well-known brand.
Where to Buy a Dutch Oven
You can purchase a dutch oven locally, buy on the internet, or you might be lucky enough to find one at a garage sale or have one passed down to you. If you find one at a garage or estate sale, just use the suggestions about what to look for in a dutch oven to determine if it's worth buying.
If everything is good except that it needs reseasoning, that can certainly be done. If there are more serious issues (cracks, warping, lid doesn't fit, etc.) steer clear of it.
Local stores that carry Dutch ovens include:
Walmart
Cabelas
Cal-Ranch
Gander Mountain
REI
Sportsman's Warehouse
Bass Pro Shops
and I'm sure there are more (let me know about other well-know stores in your part of the country in the comments below and I'll add them).
Of course, you can also buy Dutch ovens online.  You can find them at the following places:
Obviously, the big disadvantage of buying online is that shipping can be costly for Dutch ovens, due to their weight. However, a number of online stores have free shipping (like Amazon, which will ship free with their Super Saver Shipping as long as you are willing wait 5-8 business days for delivery) or can ship free to local stores, like Wal-Mart. So if your local store doesn't have the model you want you can buy online and have it shipped to your local store for free.
That's about it for buying a Dutch oven.  If you don't have a Dutch oven currently, I hope that you'll get one soon and join me in the great activity of Dutch oven cooking.
The next article will be about how to season a dutch oven.  While many dutch ovens come pre-seasoned now, there will still be occasions when you may need to know how to season a Dutch oven.
See below for all the articles in this series on Getting Started with Dutch Oven Cooking:
Be sure to sign up for the Outdoor Cooking Magic Newsletter to be notified when the next article is ready!
And if you have any suggestions or comments on buying a dutch oven, please share those with us in the comments below.