An easy and fun way to cook bread over coals or a fire is making breadsticks with bread on a stick. They may be cooked while other food is cooking so that they are ready at the same time.
The basic method uses dough rolled into a long thin rope that is wrapped around a stick. The stick is held over coals and rotated until brown on all sides. It requires a little patience to get the inside done at the same time as the outside.
To start, take some type of bread dough and roll it between your hands, forming a long piece (like making a snake or rope out of clay). Don't leave it too thick, which will make it harder to cook all the way through.
Next, select a stick to cook with. This should be heavy enough to support the dough. Take the dough and wind it around the stick in a spiral, pressing the ends to the dough so that it does not fall off.
Place the stick over the coals. It is much easier to cook breadsticks using coals than fire, since they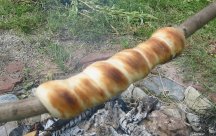 give off a better heat. It may be helpful to prop the stick up over the coals with a couple of rocks, or pile a couple of rocks on either side and lay the stick across the coals so you don't have to hold it the entire time. Occasionally rotate the stick so that the bread gets brown on all sides. Patience is helpful here, to ensure that the bread is cooked through.
You can use a thicker, longer stick laid horizontally above the coals to make several at one time. This will save time if you need to cook for several.
A variety of dough can be used-try various kinds to see which one you like best. The easiest is tube biscuits, which come in a number of types and prices. Take one or more biscuits and roll it between your hands to form the rope of dough to be wrapped on the stick. Other possibilities include Bisquick (don't make the dough too wet), bread dough (if frozen, let it thaw and rise a little), and scone dough (sometimes available at the bakery or deli in your local supermarket).
After cooking, serve with butter, jams, jellies, or honey. This is sure to be a family or group favorite!