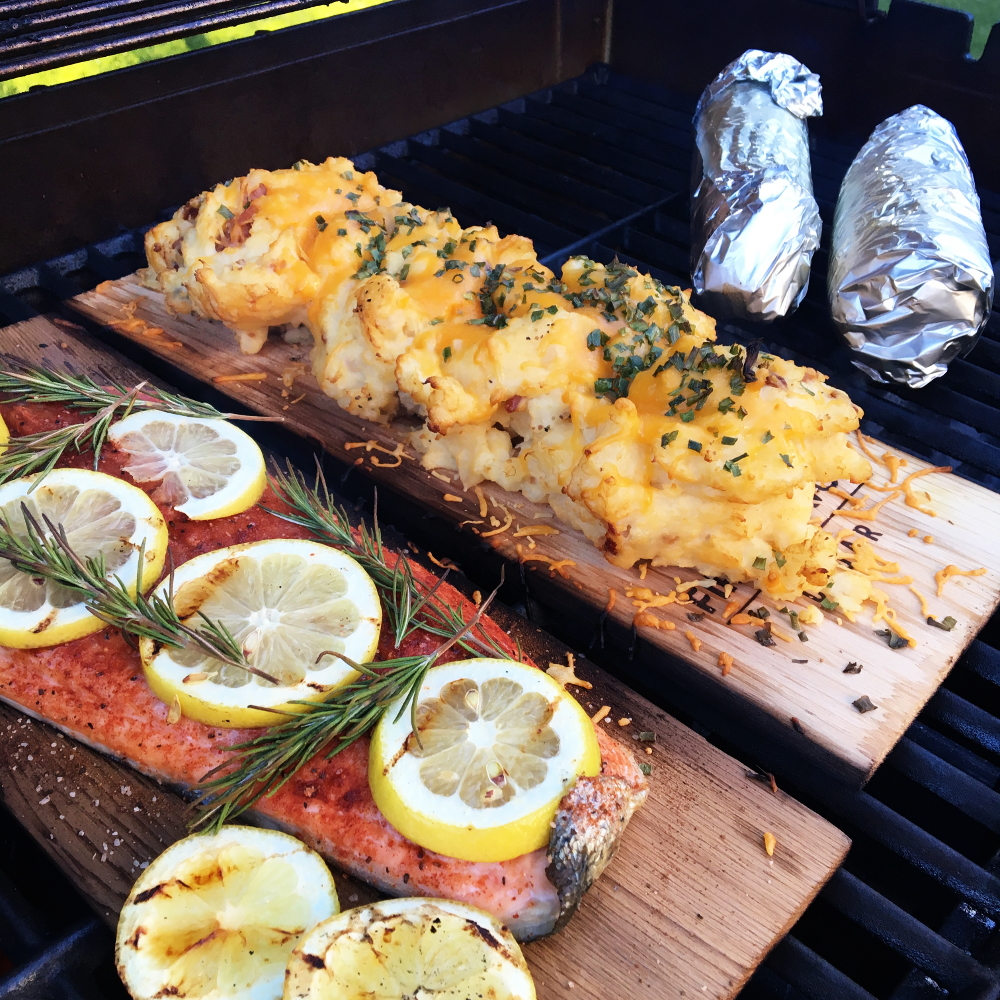 I love it when I cook something outside, bring it inside, and Sue gasps and says "Oh my goodness!" when she sees it.  That's exactly what happened yesterday.
I've been wanting to try some other possibilities using cedar planks, and my attempt yesterday included salmon (which I've done before) and mashed potatoes (which I hadn't).  The results were delicious and gorgeous.  See for yourself.
Getting ready to grill on a cedar plank starts with soaking the wood planks ahead of time.  Next you heat the cooking side of the plank by putting that surface face down on the grill for several minutes.  After this period, flip it cover and add the food to be cooked.
Yesterday, I cooked salmon on one plank and mashed potatoes on the other.  Details below.  I also added grilled corn on the cob (in foil this time), along with our favorite rolls, Texas Roadhouse Copy Kat Rolls.
Cedar Planked Salmon
I seasoned the salmon with a homemade rub that we made for family and neighbors for Christmas last year.  It goes great with pork and chicken, and now, we find out, with salmon!  It's pretty easy.  Just combine 4 tablespoons smoked paprika, 3 tablespoons coarse salt, 2 tablespoons garlic powder, and 1 tablespoon coarse black pepper.
After laying the seasoned salmon filet on the seasoned cedar plank, I took a few slices of lemon and put on the grill to caramelize a bit and give them a little char.  After they were done, I placed them along the top of the salmon.  And I let it go.
One of the nice things about plank cooking, is you don't turn anything.  Just let it go until it reaches the temperature you are looking for.  We like meat more done than most, so I cooked the salmon to about 135 or 140.
Yeah, I know that it's more than most of you would suggest, but things tend to stay moist when cooking on a plank, because the food is not subjected directly to the flames.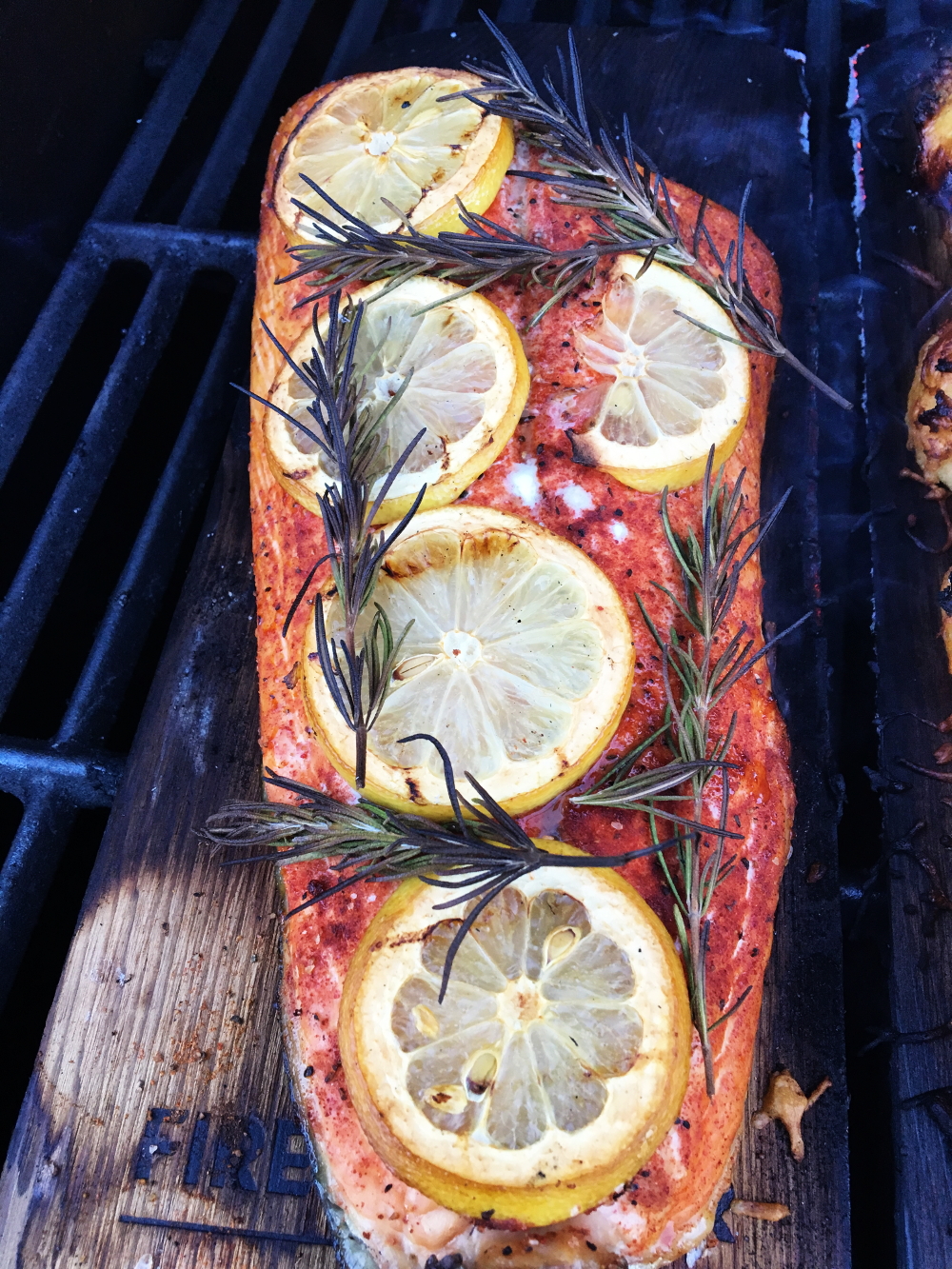 Cedar Planked Mashed Potatoes
Now for the mashed potatoes.  I got these mostly ready ahead of time so that I could put them on the second plank at the same time as the salmon.
I peeled 6-8 Russets, cut into pieces, put them in boiling water and cooked until done.  I drained them, added them to a bowl, and used a potato masher to mash them up.
Next I added some butter (about 3 tbsp), some shredded cheddar cheese (maybe a cup), and some salt and pepper (to taste).  I mixed that around until the butter and cheese was melted.
Finally I added some crumbled bacon (that I cooked on the grill earlier) and then a little cream and some milk until I got the consistency that I wanted.  Then they were off to the grill.
I loaded the potatoes onto the second cedar plank, topped them with cheese (again!) and some chives and let them go while the salmon was cooking.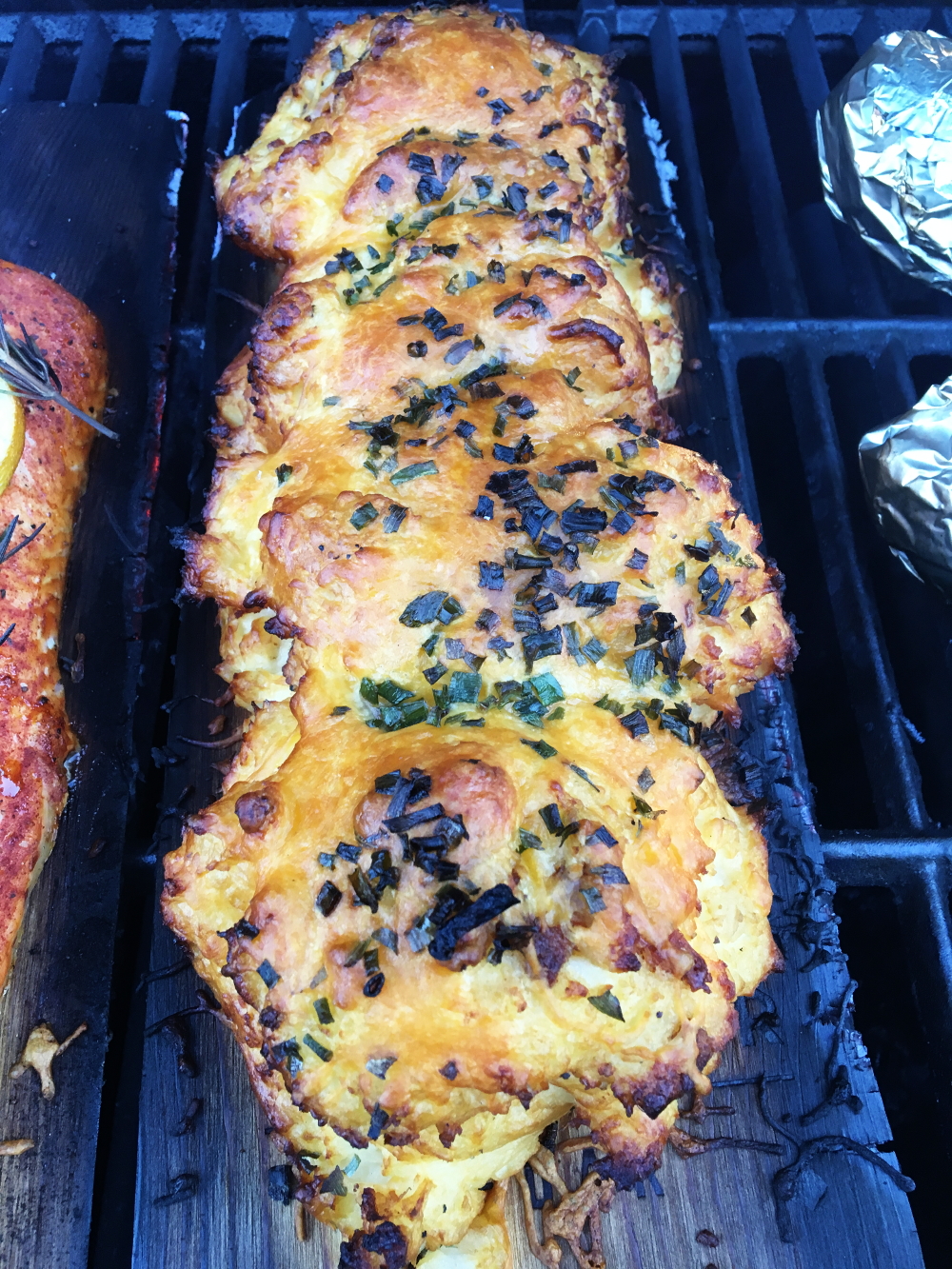 The Finish
Soon, a very aromatic smoke seeped out from the grill!  The smell was amazing.  And the salmon and potatoes started getting this wonderful color.
When the salmon was done, I pulled them planks off (doused them a little since they were starting to char) and brought them inside to show Sue.  And I got the reaction that I was hoping for and we hadn't even tasted the food yet.
I'll just say that the salmon and potatoes tasted like they looked--amazing!  Easily one of the best dishes I've recently done!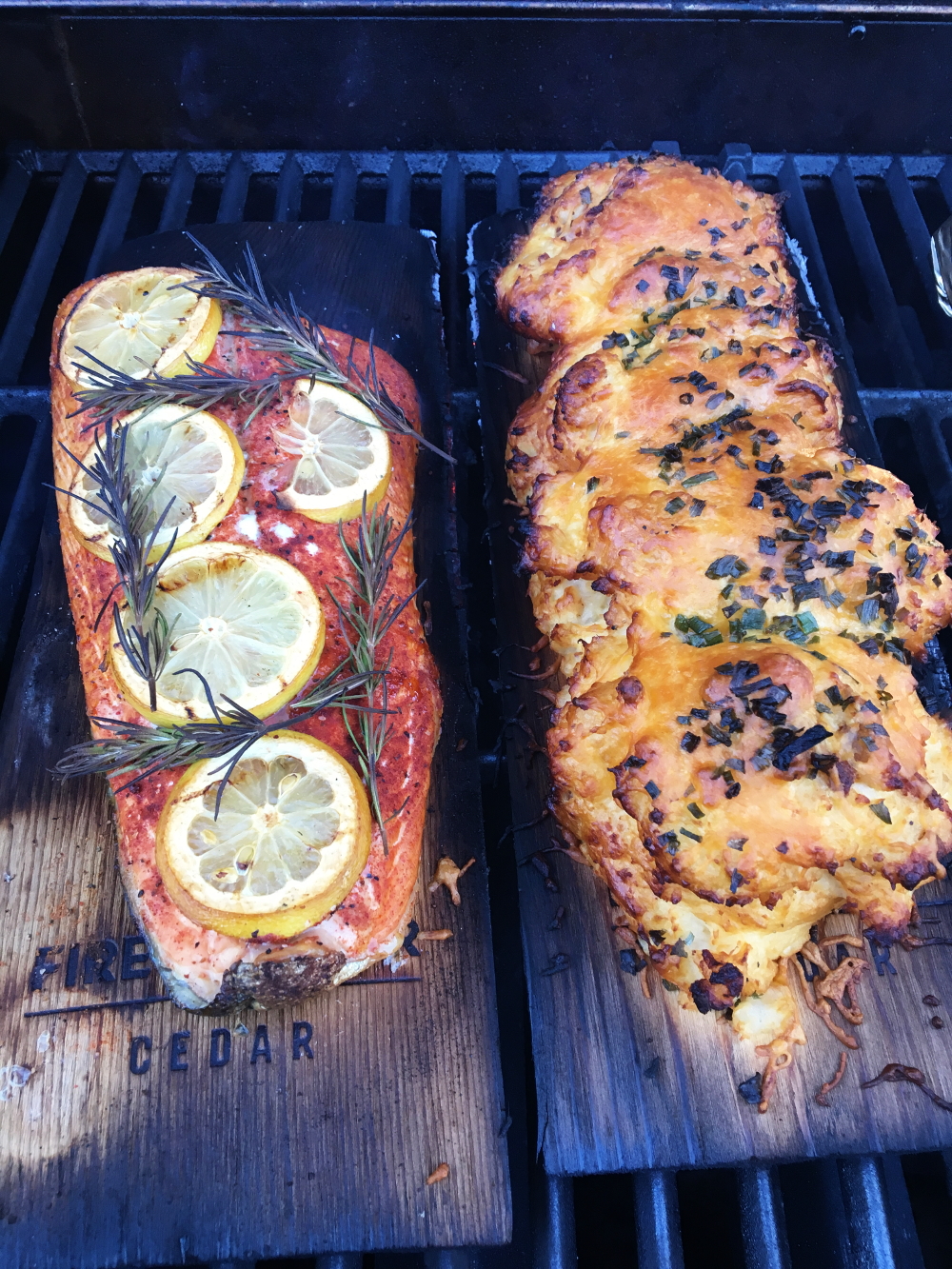 Try It!
If you haven't tried plank cooking on your grill, I highly recommend you give it a try.  You can pick up cedar planks at most big box stores, or you can get them here
(note: affiliate link--I'll get a small commission from Amazon if you buy through this link.  Your costs don't go up at all and Amazon gives me a small amount that I can use to buy food to help bring you great food like this!)
Enjoy!
[scottsig/]
P.S. In the next 30 days, I challenge you to try cooking on a plank and let me know the results below. I look forward to hearing from you!