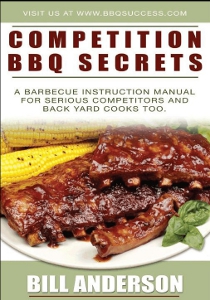 I recently got a copy of Competition BBQ Secrets to review. I've seen this ebook referred to on the Internet many times and was interested to see what it said. I'm always looking for good sources of information!

I scanned through the topics in the table of contents and it looked like it had a lot of good information in it:
Information on smokers
Woods to use
Managing your fire
Brining, marinating, injecting, sauces
Cooking tips for the big four in competition: chicken, pork ribs, pork butts, and brisket
Smoking tips for turkey
Guide to trimming spare ribs, St. Louis style
Science of BBQ
BBQ competitions
I was looking at this ebook primarily from a backyard BBQ point of view.  Most of these are topics that are applicable to the backyard BBQ, but some are much less so, such as the section on BBQ competitions.
To be honest, I was disappointed that so much of the ebook was spent on the competition aspect (about 12 pages out of 74).  I hadn't remembered the sales page saying much about that part, so went back and checked and it was my memory--it clearly states that there is information for those who want to compete. It isn't that none of that information is applicable to the backyard BBQer but you'll have to dig a little bit to find it and apply it.   It is more directly applicable to those doing competition.
With regards to the rest of the book, there is a lot of very specific information about how Bill Anderson cooks his meats at competition.  Bill is part of the Chatham Artillery BBQ Team and has done very well in competitions recently.  He must be doing something right!
I've seen some complaints that all of the information in this book can be found on the Internet.  That's probably true!  But you'll have to search high and low and test and try many things to find the combinations that work.  Bill has already done that and shares it all with you in the ebook.
Bill provides specific information about cooking time and temperatures for chicken, pork ribs, pork butts, brisket, and turkey.  He also gives a number of recipes, including:
1 injection recipe
7 rub recipes
12 barbecue sauce recipes
And a few miscellaneous others
Note that there are not a bunch of recipes--if that's what you are looking for, Competition BBQ Secrets is not for you.  But if you want some recipes that have done great in competitions, then it's worth checking out.  I haven't tried any of the recipes yet, so can't comment on them, but I look forward to trying and testing them and see what I think. I've you've tried any of these, please let us know what you think in the comments below.  I'll do the same as I try the recipes.
The one thing that I read that I completely disagreed with was a suggestion that lighter fluid be used to start the charcoal.  Bill says that if you let it burn long enough, the fluid will burn off and the odor will be gone.  That's not my experience, and I start all of my charcoal now with a chimney.  In another part of the book, he talks about an experience where he tasted some barbecue that had a bit of an after-taste.  When he checked with the cook, she said that she had used lighter fluid.  His point was that you should not risk using lighter fluid to light your coals when there were other ways.  I agree--use a chimney!  It takes a little bit longer, but you run no risk of it affecting the taste of your food.
All in all, this book has some solid information and if it is what the Chatham Artillery BBQ Team is using during their recent success, then it's worth looking at.  At the present time, the book goes for $29.95.  This may seem a bit expensive, and you might even be a bit underwhelmed after reading it (I was at first), but then you need to remember that your time is worth money and Bill has shared proven tips, tricks, and recipes with you--no need to spend your time trying to figure out what works and how to BBQ.  He'll easily save you that $29.95 in your time.
That doesn't even include the savings that you'll have from not having to buy meats and other related items to test and see what works.  Heck, a brisket alone can run around $20, so you can easily save that money by following what Bill has found to work.
I recommend that you get a copy of the Competition BBQ Secrets ebook.  You get access to it immediately (that's the beauty of an ebook) and there is a 60 day money back guarantee.  With that, you can't go wrong.  (Please note that if you click on one of my links and purchase Competition BBQ Secrets, I get a commission.  It's not a ton, doesn't change the price you pay at all and helps me keep Outdoor Cooking Magic going.)

Enjoy!