I have this dream about making a dish so scrumptious that I can cook on a camping trip and almost no one will believe that I made something so fabulous. I think I might have found that dish. Double chocolate caramel brownies in a Dutch oven. Oh. my.
I found this recipe from BakeAt350; thanks to Bridget for this delicious recipe. Bridget found these new chocolate chips which are milk chocolate with a caramel filling.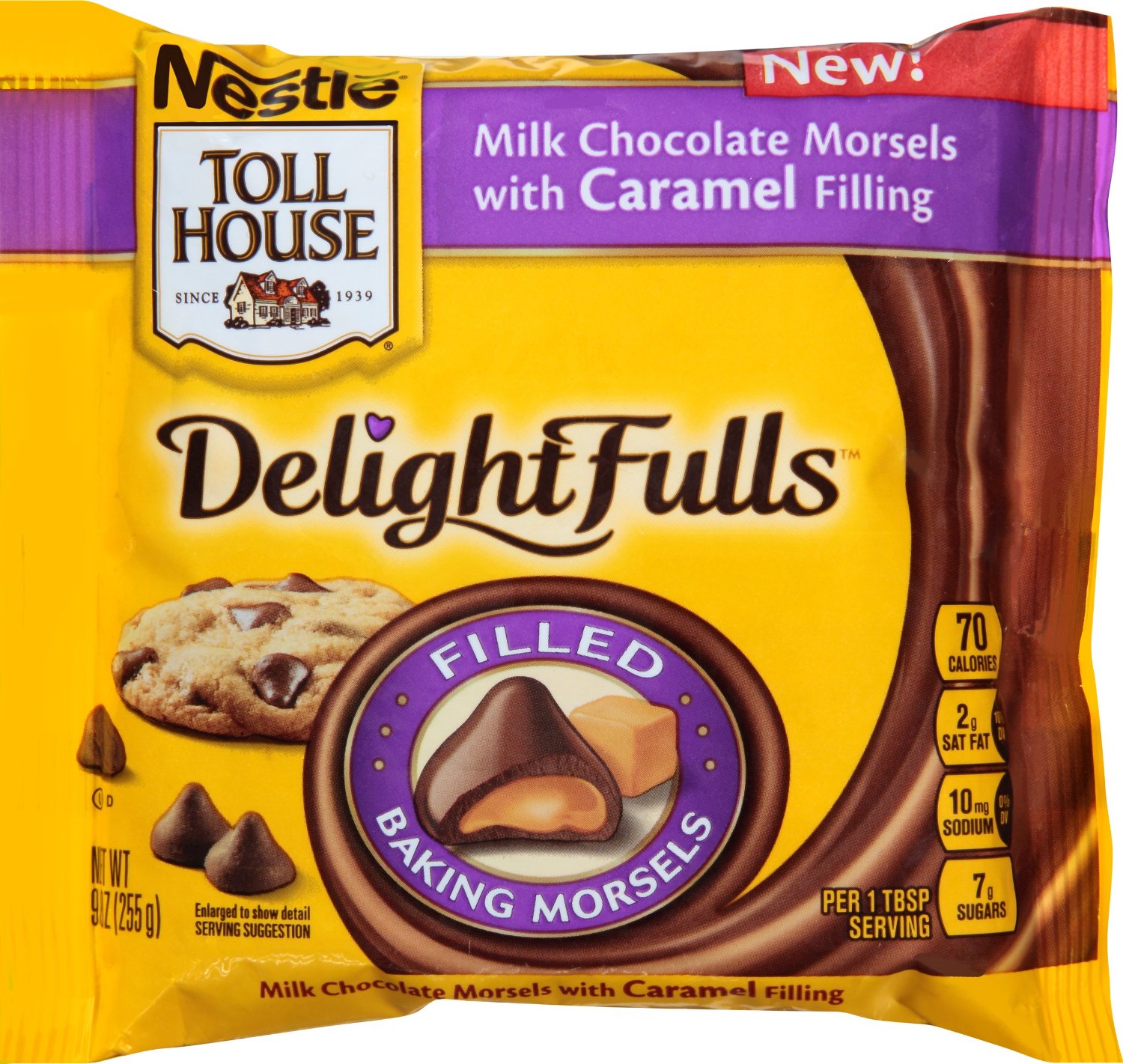 They were a bit expensive, $4.00 a bag, but I couldn't resist trying them and they were delicious. You could do the same thing with regular chocolate chips, and some caramels, but it sure made it convenient and easy to make the chocolate caramel sauce with these chocolate chips.
I lined the Dutch oven with foil to make cleanup simple and to make it easier to remove the brownies from the Dutch oven. Then I got things going by getting coals started.  Once those were ready, I put 8 coals underneath my 10" Dutch oven and 15 on top. I normally put the briquettes underneath in a circle so that they'll be just under the edge of the Dutch oven. I do a similar pattern for the top, except that I add a few in the middle of the lid.
Next, I melted some butter in a small cast iron pan and then added that to a bowl, along with a Devils Food Cake mix and evaporated milk.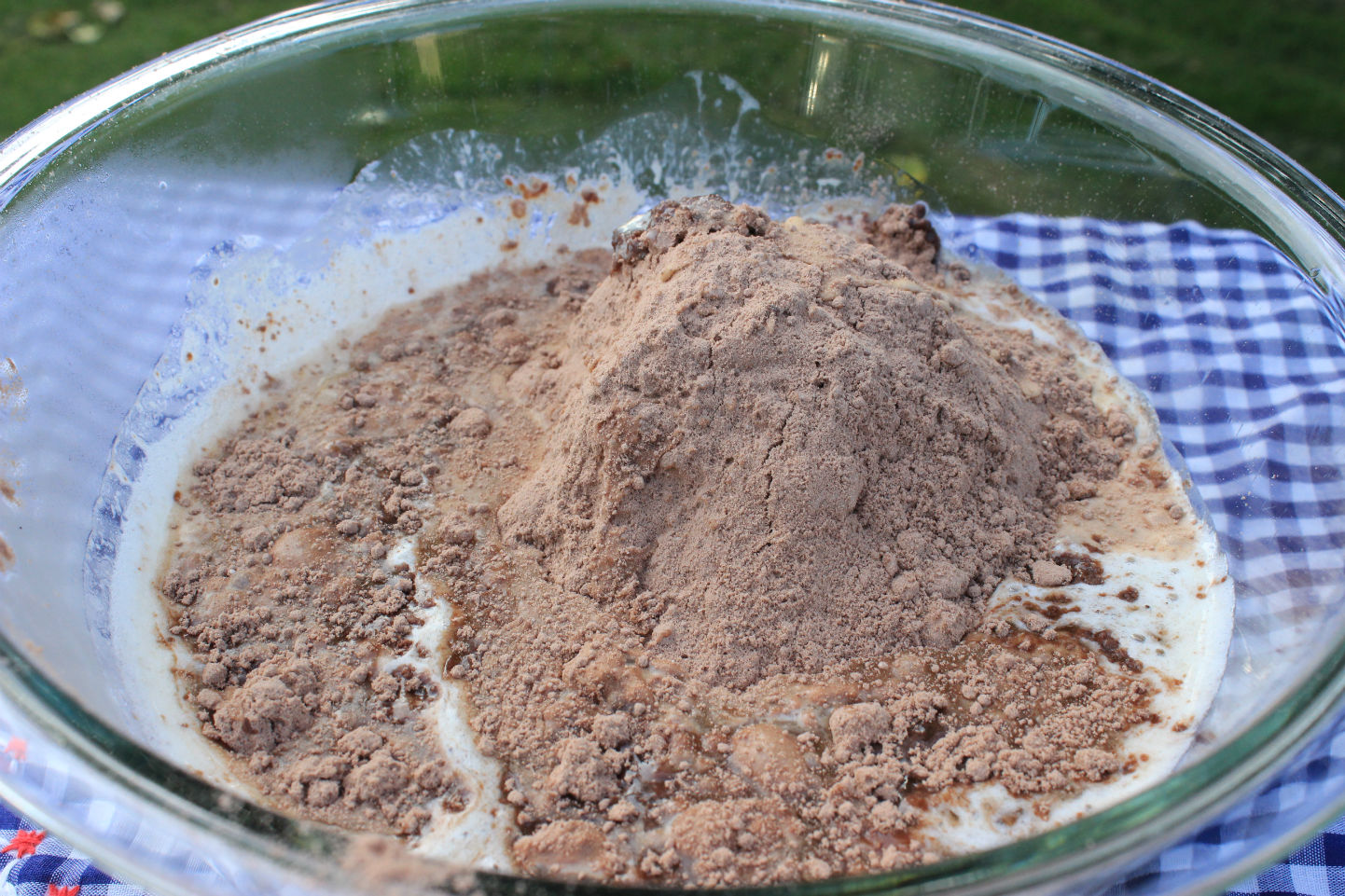 After I got that mixed and the Dutch oven heated, I put half the batter into the Dutch oven. This was the first layer.  There were two more layers to go: a gooey chocolate caramel sauce layer and then another chocolate cake layer.  It will be delicious!
While the first layer was cooking, I got the chocolate caramel sauce going. I added the chocolate caramel chips with some more evaporated milk to my small cast iron pan and started to heat it over medium heat. I started this on my side burner, but moved it to my grill after it got going. I heated it, stirring regularly, until the chocolate sauce was smooth and creamy.  I had to try it and it tasted amazing!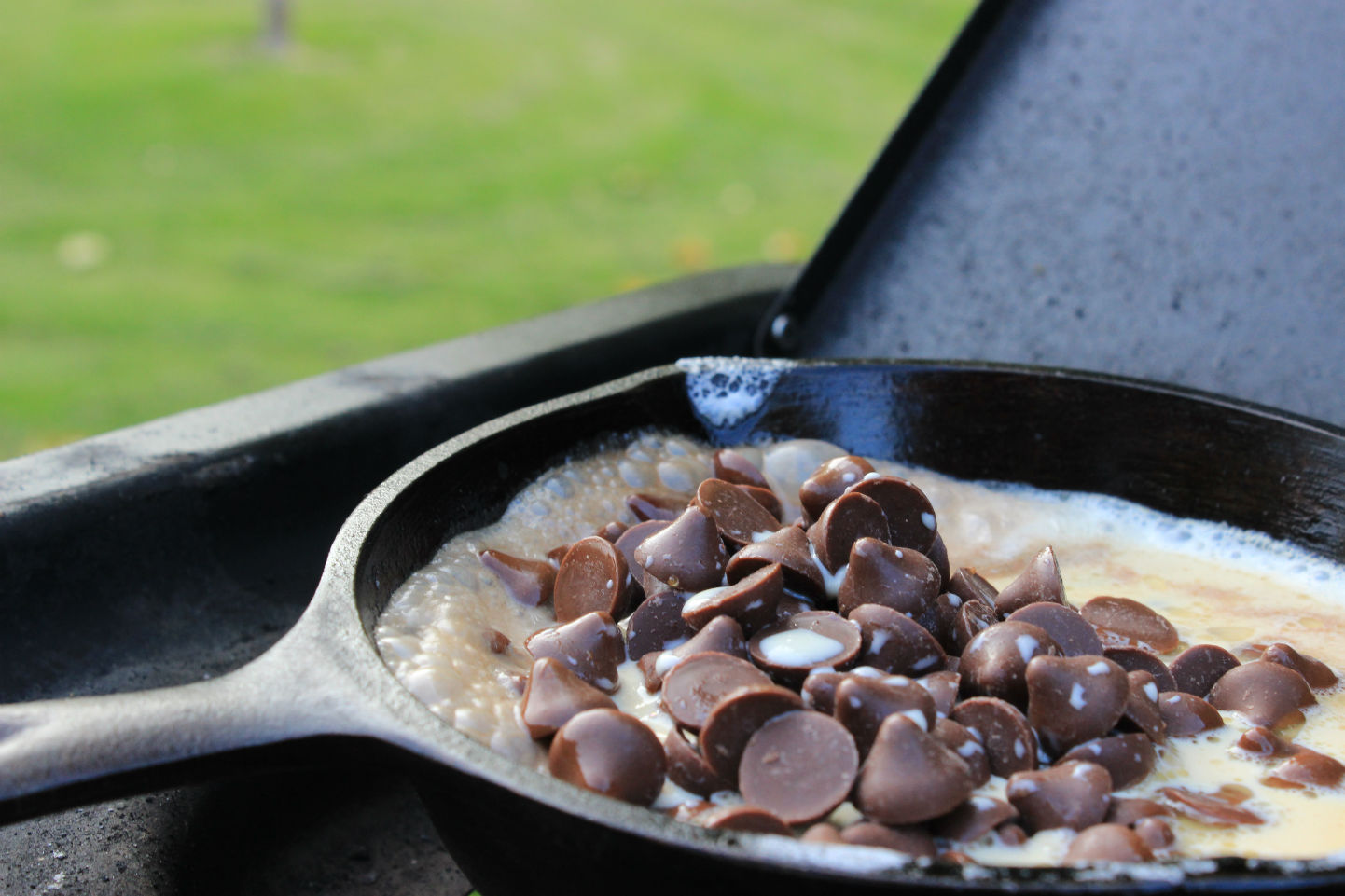 I also took some almonds, coarsely chopped them, and then spread them on a piece of foil over the grill to give them a bit of a toasting. You don't have to do this, but toasting almonds will bring out some great flavors.
Once the first layer cooked for about 6 minutes, I sprinkled some more of the caramel filled chocolate chips and then drizzled the chocolate caramel sauce over the chips and then sprinkled some more chips, white chocolate chips this time, over the top and finally added the toasted almonds.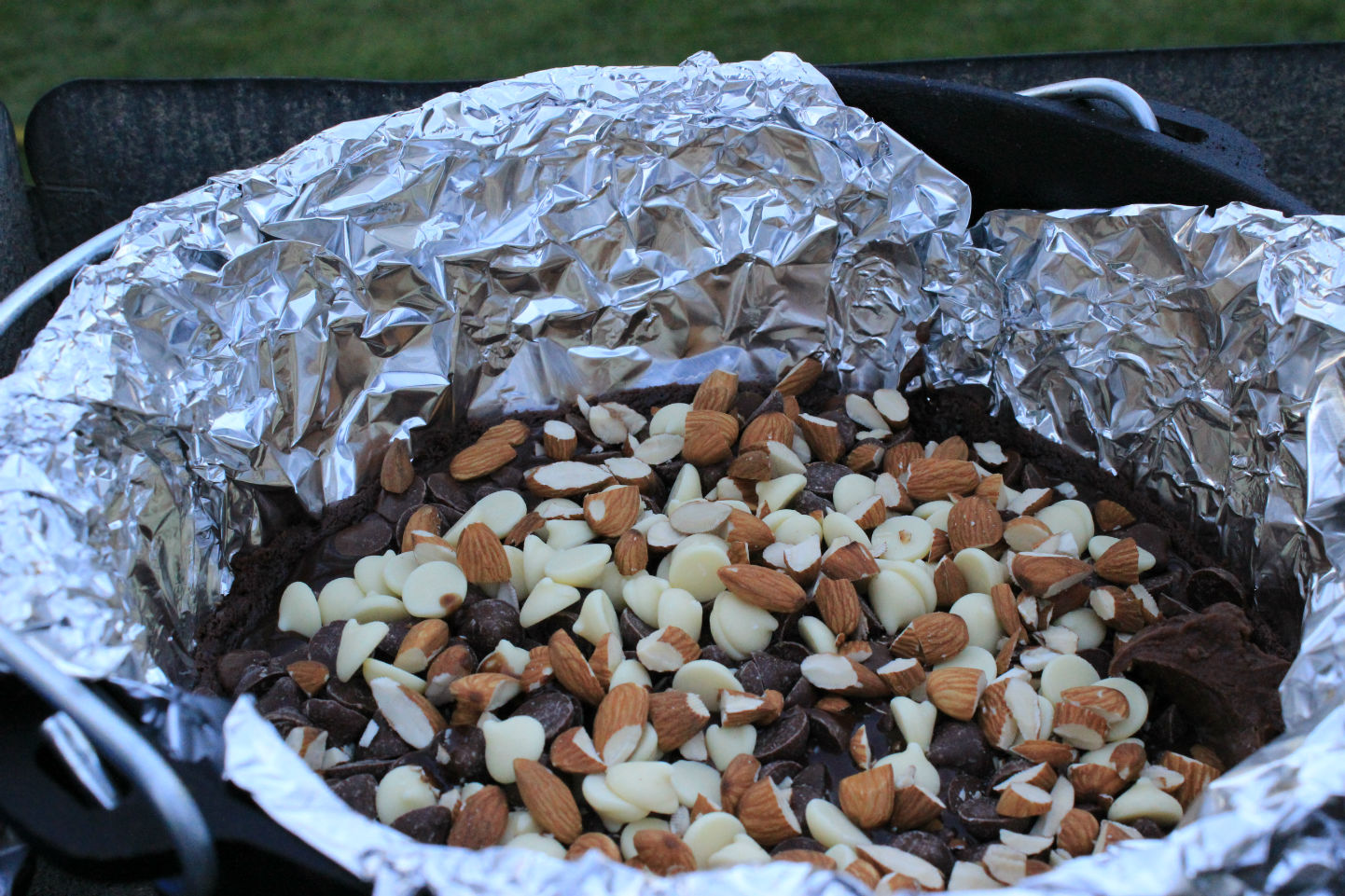 Then I put dollops of the remaining cake batter on top of that. You don't need to spread it--it's best if some of the chocolate caramel sauce layer bubbles up through.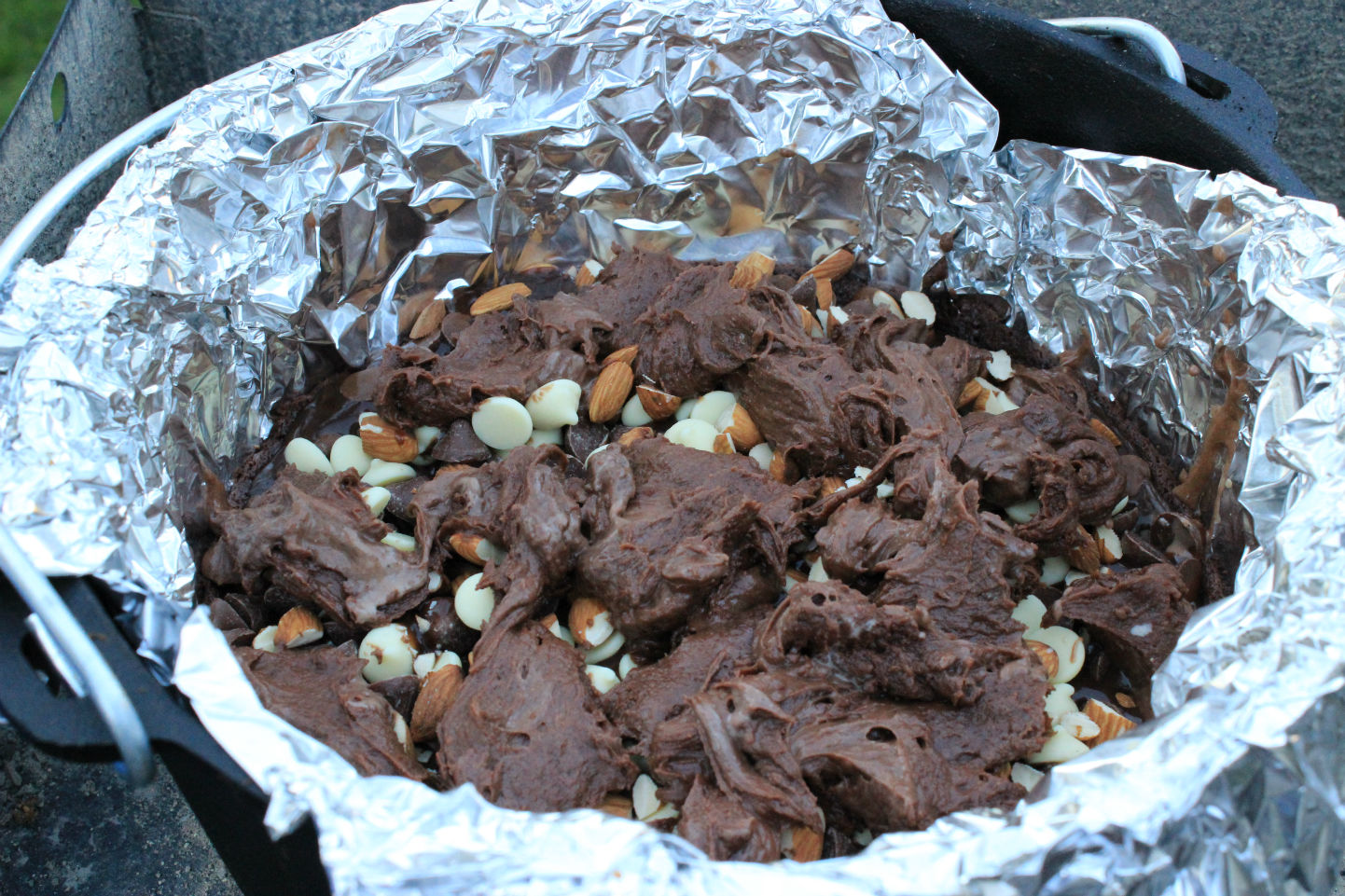 I put the lid back on the Dutch oven and let it cook away. It took about 15 to 20 minutes to finish. How long it takes will depend on how you manage your temperature. While you can use a toothpick to check and see if the cake is done, if you push it all the way through the chocolate caramel sauce layer, it will be hard to get the toothpick to come out clean. Since the bottom layer has a head start, you just need to check the top layer.
Make sure that you don't overcook these--they are meant to be a bit gooey! Once they are done, remove the Dutch oven from the coals and let sit for about 10 minutes to get things to cool off just a bit then remove the brownies but lifting the foil on both sides of the Dutch oven. Set it on a serving plate and serve. They won't last long and for good reason! This dessert is absolutely delicious. If you want to be a hero on your next camping trip try this recipe!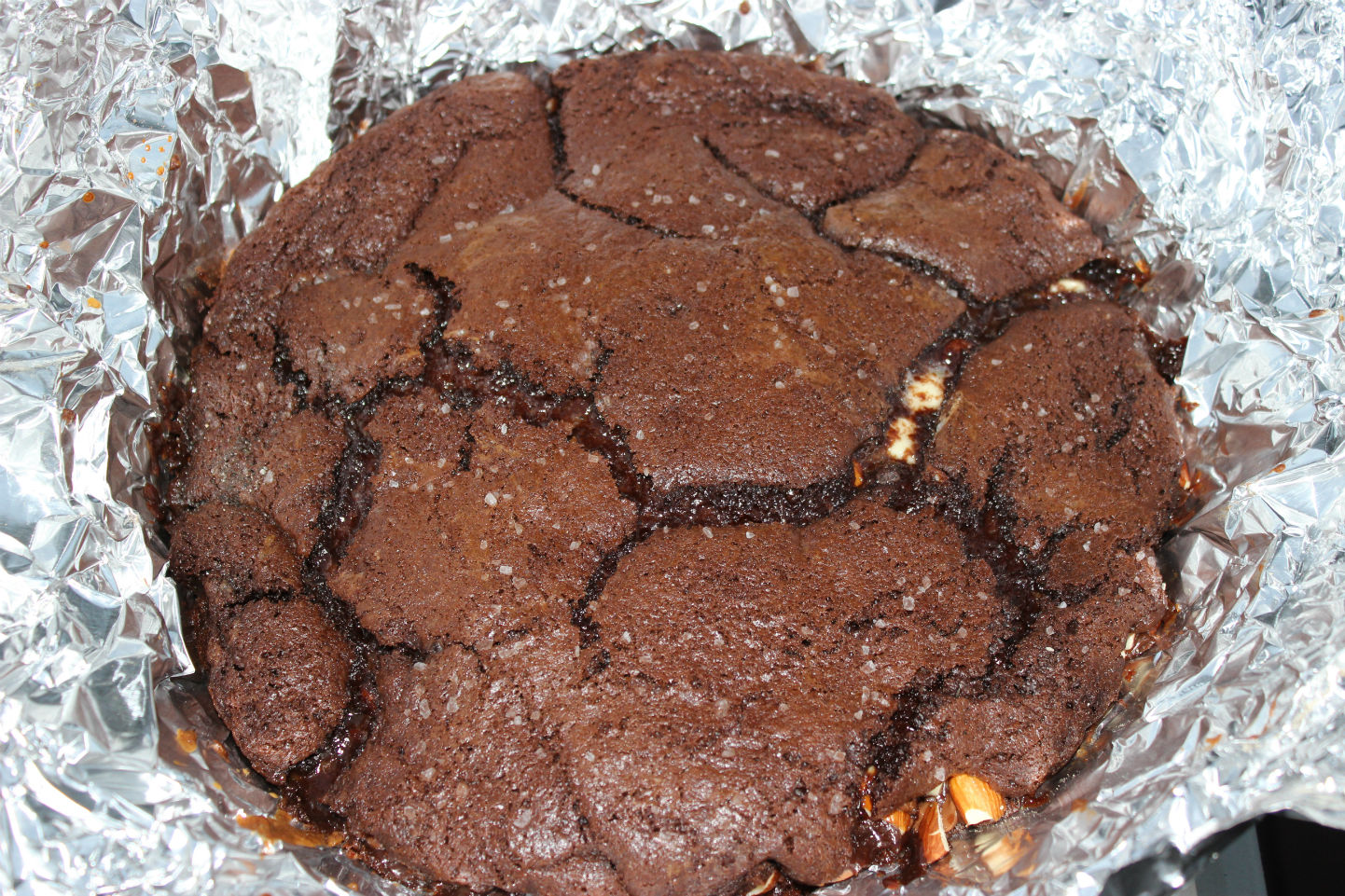 Decadent Dutch Oven Chocolate Caramel Brownies
A DELICIOUS dessert that can be fairly easily cooked in a Dutch oven. With two cake layers and a layer of chocolate, caramel, and nuts, this dish will have everyone raving about how good it is.
Ingredients
2 9-oz packages of caramel-filled chocolate chips (called Delightfulls)
1 cup white chocolate chips
⅔ cup evaporated milk
1 box Devil's Food cake mix
¾ cup salted butter, melted
½ cup toasted almonds
sea salt
Instructions
Get coals started for the Dutch oven. I used a 10" Dutch oven, so will need at least 23 coals, depending on temperature and wind.
Line the Dutch oven with foil to make is easier to clean up and to remove the brownies
When coals area ready, put 8 underneath the Dutch oven and 15 on top.
Melt the butter in a small cast iron skillet (or whatever you have)
Mix the melted butter with the cake mix and ⅓ cup of evaporated milk.
When Dutch oven is hot, spread half of the cake mix in the bottom of the Dutch oven, put lid on and cook for 6 minutes.
While the bottom layer is cooking, put 1 package plus ½ cup of the caramel chocolate chips and ⅓ cup of evaporated milk in a pan (I used a small cast iron skillet) and gently heat, stirring until you have a creamy chocolate caramel sauce.
Coarsely chop the almonds and put on a piece of aluminum foil over the grill and heat up, in order to toast them. It won't be the same as in your oven, but will still bring out some good flavors.
When the 6 minutes are up, pour the melted chocolate caramel mixture over the cooked layer, sprinkle with the remaining chocolate chips, white chocolate chips, and toasted almonds.
Put dollops of the remaining batter over the top. You don't need to spread it. It's ok if some of the chocolate sauce layer shows through.
Sprinkle sea salt on top.
Replace the Dutch oven lid and cook for another 15-20 minutes.
These will be a little be gooey--you can test the top layer of cake with a toothpick to check for doneness. If you push through into the chocolate sauce layer, it won't come out clean, so just test the top layer.
Serve and enjoy!

P.S.  For more tips tricks and recipes, make sure to sign up for my email newsletter and get my free Outdoor Cooking Magic Tricks ebook.