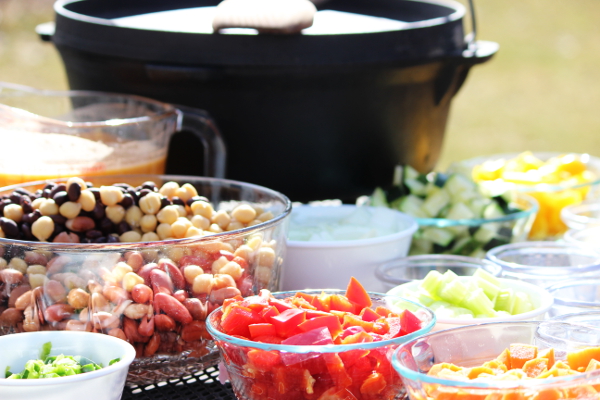 There are so many good food bloggers around with fabulous dishes.  One that I really like to peek in on is Ree Drummond at The Pioneer Woman.  This Dutch Oven Veggie Chili is patterned after her Veggie Chili recipe, but cooked outdoors in a Dutch oven, of course!  It's completely vegetarian, with a delicious mixture of vegetables and beans.
Recipes like this are fabulous for the Dutch oven, because of all the liquid, they are easy to do and are almost a set and forget.  Other than putting the zucchini in towards the end, you can pretty much dump everything in, get it up to a boil, then let is slow simmer until all the veggies are done.  Pretty easy for an outdoor dish.
If you have a garden, make some substitutions to use veggies straight from your garden and this dish is even tastier!
Ok, let's get started.  Here are all the yummy vegetables that I used, including carrots, peppers, onions, celery, jalapeno, and zucchini.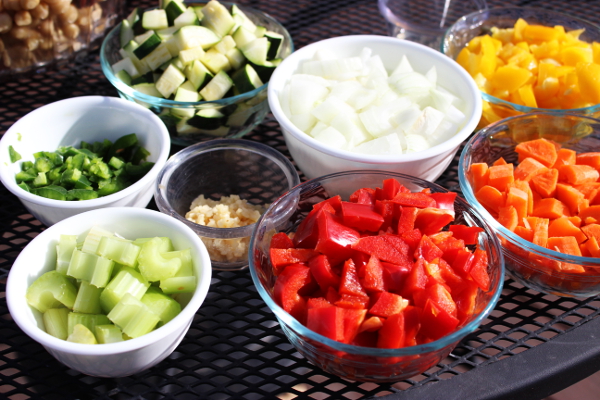 I started a Dutch oven warming up with coals underneath, then dumped the veggies in and cooked a few minutes until they started to turn a darker color.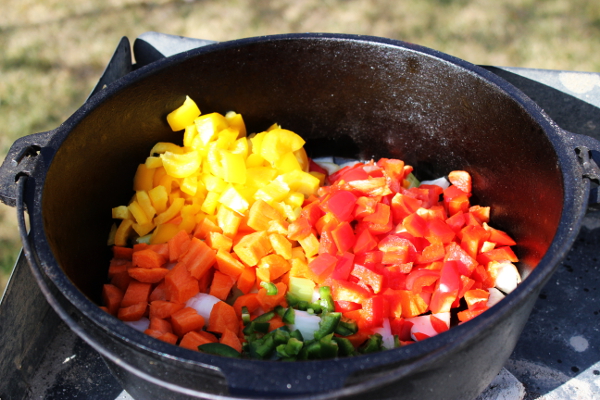 Next I added the seasonings, which included salt, cumin, chili powder, garlic powder, and oregano.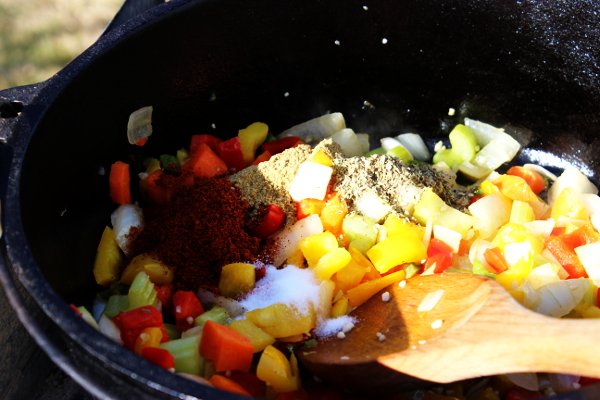 These got stirred around for a few minutes to let the seasonings mix in with the veggies and deepen their flavor as well.
Next was the vegetable stock and diced tomatoes and chilies.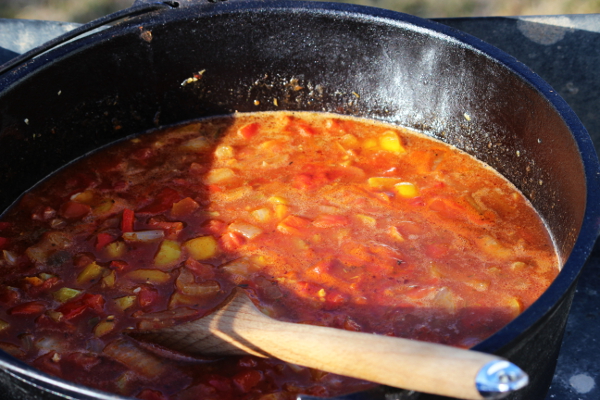 This was simmered for about 30 minutes, then I added a variety of beans.  I love soups like this with a bunch of different beans.  They bring different textures, flavors, and colors and really liven up the dish. (Unfortunately, I don't have pictures of the beans in the chili!)
Finally, I added in the diced zucchini, and let things simmer for another 30 minutes.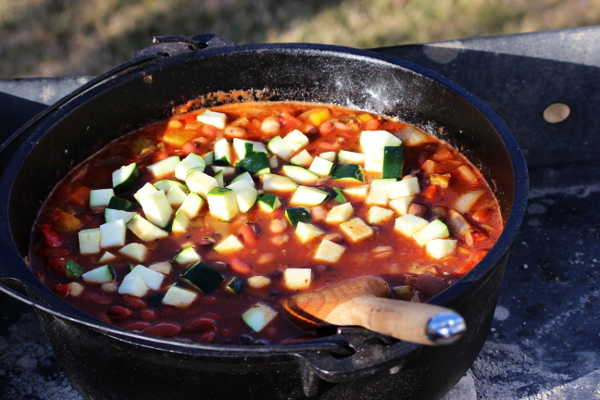 The result was fabulous, and even tastier with a little Mexican sour cream drizzled on the top.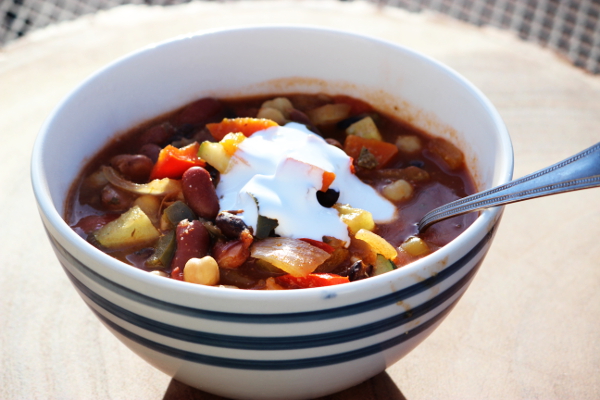 So delicious, even for this meat eater!
Try and let me know what you think!

Dutch Oven Veggie Chili
Delicious, Dutch oven vegetarian chili, with a variety of vegetables, beans, and spices. Perfect for the vegetarian who wants a delicious chili.
Ingredients
2 Tbsp olive oil
4 cloves garlic, minced
1 large onion, diced
1 red bell pepper, diced
1 yellow bell pepper, diced
2 carrots, peeled and diced
2 stalks celery, diced
1 jalapeno, seeded and diced
3 cups vegetable broth
1 can (14 oz) tomato sauce
1 can Ro-tel (diced tomatoes and chilies)
½ tsp salt
1 tsp oregano
1 tbsp cumin
2 tbsp chili powder
1 tbsp garlic powder
1 can (14 oz) kidney beans, drained and rinsed
1 can (14 oz) pinto beans, drained and rinsed
1 can (14 oz) garbanzo beans, drained and rinsed
1 can (14 oz) black beans, drained and rinsed
1 large zucchini, diced
¼ cup cornmeal
½ cup warm water
Mexican sour cream (may be omitted for completely vegetarian chili)
Instructions
Get the Dutch oven heating up. When hot, add the olive oil and then the onion, garlic, peppers, carrots, celery, and jalapeno
Stir and cook, until the veggies start to turn a deeper color. This may take 5-7 minutes, depending on how hot your Dutch oven is.
Add the salt, oregano, cumin, chili powder, and garlic powder and continue to cook to get all the seasoning mixed with the veggies and bloom their flavors.
Sloooowly add in the vegetable broth (we don't want to crack the Dutch oven), the tomato sauce and the Ro-tel tomatoes and chilies.
Stir, and bring to a boil, adding more coals if needed. Once you are boiling, remove some of the coals to allow the chili to simmer. Put the lid on and let the chili simmer for 30 minutes. Stir occasionally.
Now add the beans. If you want to switch what is in the recipe, go for it. Use your favorites. Add the zucchini, stir, cover the pot and let simmer for an additional 30 minutes.
Mix the cornmeal and water together and slowly stir into the chili to thicken it a bit.
Simmer for another 15 minutes.
Taste and add additional seasonings as desired.
Serve and add other adornments as desired. Crema Mexicana, regular sour cream, cilantro leaves, salsa, and shredded cheese are all possibilities.