Now that we've talked about getting a dutch oven, seasoning it, and where and how to cook with your dutch oven,  we'll look at some dutch oven accessories that you'll need to get you going and then a few accessories that you might want to get and use as you go along.
Lid Lifter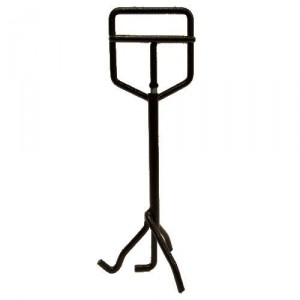 The number one dutch oven accessory that you should get is a dutch oven lid lifter.  While you can use pliers, a lid lifter is much more convenient and will allow you to securely lift and move your dutch oven lid.   Remember, that lid is heavy!   The last thing you want to drop it (could crack it, making it unusable), or drop coals in your food (making the food inedible).
The best lid lifter to get is one that holds the lid firm when you pick it up. The surest lid lifter combines a hook with a three-legged brace. The three legs rest on the top of the lid.  The hook goes under the lid handle. As the hook is pulled up tit tightens the lid against the three legs. Click here for an example of this type of lid lifter.
Charcoal Chimney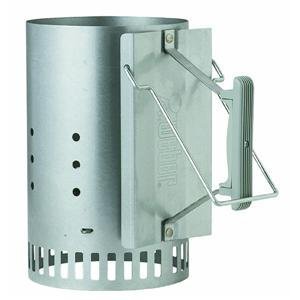 In order to do dutch oven cooking, you'll need some way to get the charcoal briquettes going.  The number one way to do that is with a charcoal chimney.  The chimney has a couple of chambers.
The top one is where you put the briquettes that you are starting.   The bottom chimney is where you start the fire.   Crumple up a few sheets of newspaper and push them into the bottom section.  Set the chimney on a non-flammable surface (probably where you are going to cook with your dutch oven) and light the paper.  Give them 15-20 minutes, and you'll have briquettes, ready to go.
Another solution, if you have grill with a side burner, is to simply put the chimney of briquettes on the side burner and turn it on--no paper needed.  Give it a few minutes to get the briquettes going, turn off the side burner and let the coals continue on.  It's a nice easy, quick way to get those coals ready.
Find out about charcoal chimneys.
Lid Holder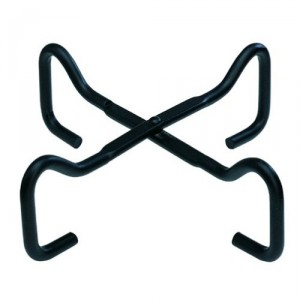 You'll need something to set the dutch oven lid on while you check the food, stir the food, and serve the food.  The lid is hot, so you can't just put it on the table, and if you set it on the ground, it will pick up dirt which will fall into the food when you replace the lid.  A dutch oven lid stand  is a solution, or you can use some clean bricks, or something similar to set the lid on.
Tongs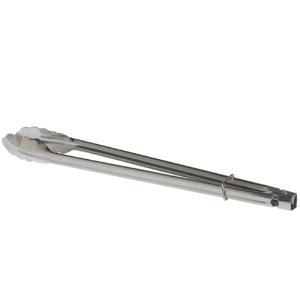 Some long tongs will help you to put the charcoal briquettes where you need them, both above and below the dutch oven.  Get charcoal tongs that are long enough to keep you from getting burned.  Get a pair that you'll use exclusively for moving charcoal.  They aren't that expensive and you won't have to wash them!
That's probably the minimum number of dutch oven accessories that you need to get going.  If you think there is something else that is a must have, share that with us in the comments below.
Here are a few other things that you might consider as you get more experience and are willing to spend a bit more.
Dutch Oven Table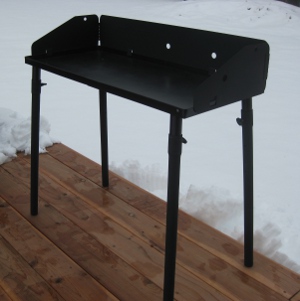 A dutch oven table was mentioned in the article about where to cook with a dutch oven, but it's worth mentioning here.  A dutch oven table provides a dedicated place to cook with your dutch oven--it will go well in your backyard or patio and let you cook with your dutch oven whenever you like.
Leather Gloves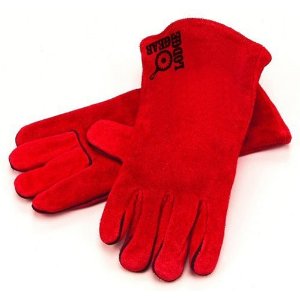 Many people like to use a pair of heavy leather gloves when they are doing their dutch oven cooking.  Wear them when you are moving the dutch oven on and off the coals, or when rotating the dutch oven.  They allow you to have a much firmer grip on the dutch oven then the lid lifter.  The wire bale can get hot, so the gloves will protect your hands.
There are certainly many other accessories that you can use while cooking with your dutch oven.  But these are a good set to get you started.
If you have other accessories that you use, let us know in the comments below.
In the next article we'll talk about some easy dutch oven recipes to get started with.
See below for all the articles in this series on Getting Started with Dutch Oven Cooking:
Be sure to sign up for the Outdoor Cooking Magic Newsletter to be notified when the next article is ready!
Make sure to follow my on Twitter and Like Me on Facebook!