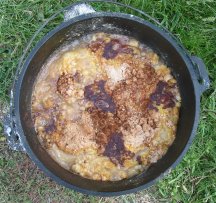 Have you ever thought about cooking outdoors every day for a year? I've thought about that, but haven't decided that I wanted to do it just yet.
But then I came across this blog that detailed doing Dutch oven Cooking every day. For an entire year. I think there was a slight gap a couple of times due to unavoidable circumstances--still the accomplishment was impressive.
As I skimmed through her blog I found posts on some tasty bread, posts about cooking in the snow, cooking in the rain, and much, much more.
Take a minute and visit Dutch Oven Madness and see all the great recipes and stories of cooking with a Dutch oven every day.