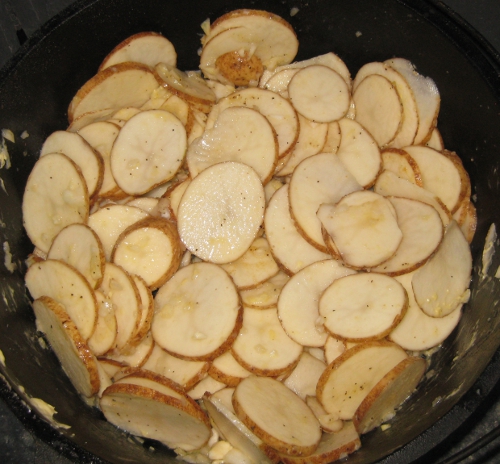 I was grilling some steaks and decided to add a side dish from my dutch oven.  This recipe for Delmonico potatoes was an easy and tasty dish to do in the dutch oven.
I started with about 6 medium potatoes, which I cleaned, then cut into thin slices.  This was approximately 7 cups of potatoes.  I minced 1/4 cup of onions, and grated 1 cup of Swiss cheese.

I put the mixed the sliced potatoes, 1/4 cup of melted butter, 1 tsp salt, 1 tsp pepper, and 1 tbsp garlic powder and then added the mixture to the dutch oven with 12 coals underneath and 18 on top (normally, for a 12" dutch oven, I would put 9 underneath and 15 on top, but it was cold and it took a while for the Dutch oven to heat up and get things going).
I cooked the potatoes for about 20 minutes. Again, I think normally, you would only have to cook these for about 10 minutes at this time, but it was taking a bit long for the Dutch oven to heat up.
Next I added 1 cup of milk, which had been scalded and cooked for another 20 minutes.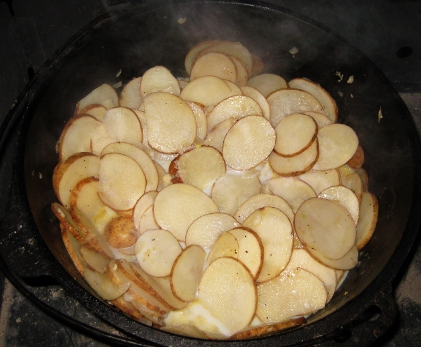 Finally, I added the grated swiss cheese and 1 beaten egg to the potato mixture and mixed it up well and baked for a final 10 minutes.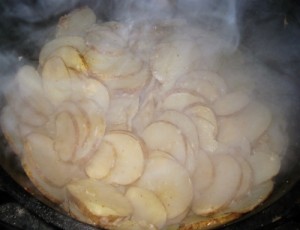 And the result?  Some delicious, super-easy, Dutch Oven Delmonico potatoes to go with our steaks that I grilled for us.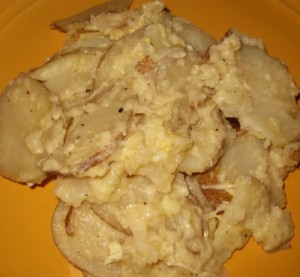 Using your Dutch oven to cook some side dishes while you cook the main course on the grill is an easy way to cook your whole meal outdoors.
Dutch Oven Delmonico Potatoes Recipe
Dutch Oven Delmonico Potatoes
Prep time:
Cook time:
Total time:
Ingredients
¼ cup melted margarine
7 cups thinly sliced potatoes (6-7 medium sized potatoes)
¼ cup minced onions
1 tsp salt
1 tsp pepper
1 tbsp garlic powder
1 cup milk
1 cup grated Swiss cheese
1 egg, beaten
Instructions
Combine the melted margarine, potatoes, salt, pepper, and garlic powder and mix well.
Add to pre-heated Dutch oven and bake for 10 minutes.
Scald the milk and then add to the potatoes.
Cook for an additional 10 minutes.
Add the beaten egg and grated Swiss cheese and mix well.
Bake 10 minutes and serve!
Hope you enjoy these!

P.S. Please share this post with your Twitter follows or Facebook friends by click the corresponding button below!