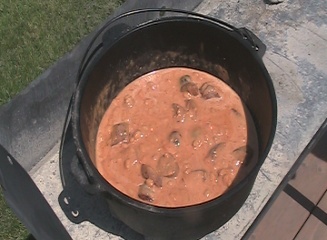 I wasn't too sure that Hot Dog Stew was going to be my favorite, so I changed the recipe for Outdoor Cooking Magic Challenge #7 and used Johnsonville Sausages instead.  That was a good call and the sausages were delicious in this very easy Dutch oven dish.  I grilled the sausages on the grill, cut them up, added all the ingredients to the Dutch oven and let them simmer away.  It turned out great.
Not only was the dish tasty, it's was also super easy.  While you could brown the sausages in the Dutch oven before adding everything else, grilling them first gave them a nice flavor and added to the overall taste of the dish.
Here is the recipe for  Dutch Oven Sausage Stew:
Dutch Oven Sausage Stew
Prep time:
Cook time:
Total time:
A delicious, very easy stew to cook with sausages in your dutch oven.
Ingredients
1 pkg Johnsonville sausages
1 can (11½ oz) condensed bean and bacon soup, undiluted
1 can (10¾ oz) reduced-fat reduced-sodium condensed tomato soup, undiluted
1 can (15 oz) pork and beans
1 tsp chili powder
1 tsp dried minced onions
¼ tsp pepper
¼ tsp liquid smoke
⅔ cup fat-free evaporated milk
Instructions
Grill the sausages and then cut into ½" pieces.
Add the sausages to the Dutch oven.
Add all the remaining ingredients except the evaporated milk.
Cover the Dutch oven and cook on low heat until all is heated.
Stir in the milk and heat through again.
Serve!
Here's the video, showing how I cooked this dish:
Did you try this recipe?  Let me know what you think in the comments below

P.S. Taste of Home's magazines are a great source of recipes.  Just like I'm doing, you could adapt many of them to cooking on your grill or in your Dutch oven.
P.P.S Looking a Dutch oven?  The Lodge Logic Dutch Oven is a great choice and will last you for years.