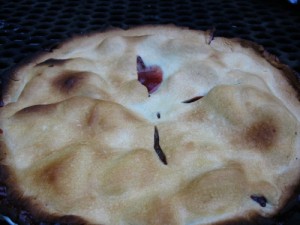 The dish that was selected for this challenge was Brown Sugar Rhubarb Pie.  But after finding out that the day (June 9)  I was going to cook this dish was National Strawberry Rhubarb Pie Day, I had to make an adjustment, and Strawberry Rhubarb Pie it was!
I decided to take my family up one of the local canyons near where I live and cook this at one of the local picnic areas where they have fire pits.  All went great, other than two things.  I didn't get the edges of the pie crusts sealed enough and some of the filling bubbled out and overflowed into the bottom of the Dutch oven.  I also cooked the pie in my Dutch oven in the fire pit with the Dutch oven on the briquettes on one side of the fire pit and the fire going on the other side.  The heat from the fire made it harder to control the Dutch oven temperatures and the pie was a little bit browner than I would have liked.  But it tasted great!
One of the keys to cooking a baked dish like this in a Dutch oven is to keep the bottom of the cooking dish off the bottom of the Dutch oven.  So I put a few rocks about 3/4" round in the bottom of the Dutch oven underneath the pie plate.  This allowed some air to circulate and will make it much easier to keep the bottom from burning.
Here's the recipe that I ended up using:
Dutch Oven Strawberry Rhubarb Pie
Recipe type:
Dessert, Pie
Prep time:
Cook time:
Total time:
A Strawberry Rhubarb Pie cooked in a Dutch oven.
Ingredients
pie crusts for 9" double crust pie
2 cups diced rhubarb
2 cups halved strawberries
1½ cups turbinado sugar
⅓ cup flour
½ tsp cinnamon
¼ tsp nutmeg
Instructions
Start Dutch oven heating to 425 degrees/
Put 1 pie crust in bottom of 9" pie plate.
Mix sugar, flour, cinnamon, and nutmeg in bowl.
Sprinkle two tbsp of the mixture on top of the bottom pie crust
Add diced rhubarb and halved strawberries to the remaining sugar-flour mixture and stir to coat.
Add rhubarb-strawberry-flour-sugar mixture to pie plate.
Cover with top crust and seal edges.
Bake at 425 for 15 minutes. For a 12" Dutch oven, this is about 30 coals, with 16 on top, 14 below. This may need to be adjusted if it is a windy or cool day.
Reduce heat to 350 degrees and bake an additional 40-45 minutes. This requires that you remove 3-4 coals, evenly from top and bottom.
Serve with whipped cream topping.
Everyone loved the pie!
Here's the video:
Let me know how your pie turned out!

To get outdoor cooking tips and recipes, please subscribe to get my free Outdoor Cooking Magic Tricks ebook: