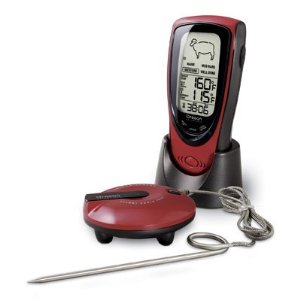 If you want to get one thing that will help improve your dad's cooking on the grill (not that it is bad!) you need to get him a bbq thermometer.  Using a barbecue thermometer takes all the guess work out of knowing when the meat is done.
There are lots of different kinds of barbecue thermometers, from the simple to the very complex.  Here are some of the common features:
Quick Read
A good quick or instant read thermometer will give you an accurate temperature in no longer then 20 seconds and more likely in the 10 second range.  Some thermometers will even be in the 6-8 second range.  The faster the better, as long as it is accurate!  If it isn't accurate, then it doesn't really matter how fast it gives you a temperature.
Here is the link to Quick Read BBQ Thermometers
Wireless Capability
Some thermometers have a probe that is connected to a transmitter.  You put the probe into the meat, head inside, or to other activities, and check the receiver to see what the temperature of your meat is.  This frees you from having to constantly the temperature by babysitting your grill and continually checking the temperature.
Some even come with alarms or voice that will give you an audible indication that the desired temperature has been met!
The range of the wireless will vary quite a bit, with some giving you a range of over 300 feet--that's longer than a football field.  This should be plenty for you to do what you want to do, knowing that your meat is constantly being monitored.
Here is the link to Wireless BBQ Thermometers
Temperature Range
Each thermometer will be accurate for a specific range of temperatures.  These will often be in range of 32 degrees to 600 degrees.  Some will read even colder temperatures (which you probably don't need for grilling!).
Probes
If you want to monitor more than one dish at a time, consider a thermometer with dual probes.  This allows you to cook different dishes to different temperatures. It would also allow you to monitor cooking one steak to be medium-rare while you cook another one to well done.
Here is the link to Dual Probe BBQ Thermometers
There are also Talking BBQ Thermometers and Fork BBQ Thermometers.
Whatever type you get, it is sure to make a big difference in the end results of your barbecues!