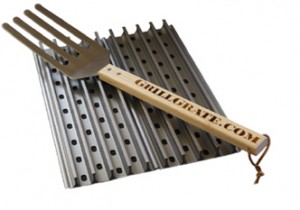 You are probably thinking "Why do I need a new cooking surface for grills?"  If you would like a better way to sear the meat that you grill, to control flareups that cause your food to burn, and to get rid of the fat in the food, GrillGrates is the solution.
GrillGrates have a raised rail design that sits atop your existing grill.  They allow you to sear and sizzle your food better because the limit the exposure to the grill flames.
You can get perfect sear marks with GrillGrates and they collect the juices just below the meat, where they simmer and provide added flavor and tenderness.  They virtually eliminate the charring of your food.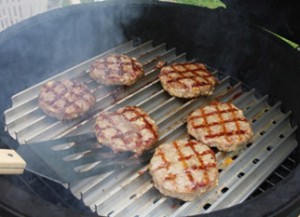 GrillGrates comes with The Grate Tool which fits in between the rails and lets you lift up even the most delicate foods .  It's great for lifting up pizza or grill vegetables, like asparagus.
GrillGrates are easy to clean up--usually you can just leave them in the grill, turn it up to medium, and close the lid. The heat will take care of most of the cleanup and then you just wipe them clean with a damp cloth.  Or you can wash in the sink or dishwasher if you prefer.
Here's a video about the GrillGrates so you can see exactly how they work.  Underneath the video is a link where you can order the GrillGrates, or find out more about them.
To order the GrillGrates or find out more about them, click here.
You can also get GrillGrates in multiple panel sets to fit larger grills:
In short, you can find GrillGrates to fit whatever grill you have.