Grilling is a great way to cook asparagus. The asparagus will get its very best flavor as it's grilled. The only problem is that the stalks tend to fall down between the grill grates. You can grill the asparagus in a vegetable basket, or....

I came across this neat solution to the grilling asparagus problem in How to Grill by Steven Raichlen. He suggested that you put 4-5 stalks together with toothpicks. Great idea!  It's not that hard to do.  Snap off the woody bases of the asparagus stalks.  Take 4 or 5 stalks, line them up, and use toothpicks to skewer them together in two places, top and near the bottom.  This keeps the asparagus from falling through the grates.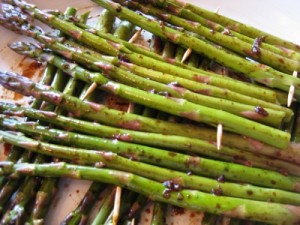 I then applied a glaze of 4 tbsp sesame oil, 2 tbsp soy sauce and a couple of minced garlic cloves.  After applying the sauce, sprinkle with salt and pepper (kosher salt and ground pepper is best!).  Finally, sprinkle sesame seeds on the asparagus stalks.
You could also use many other glazes that you get at the store, or make your own. Be creative!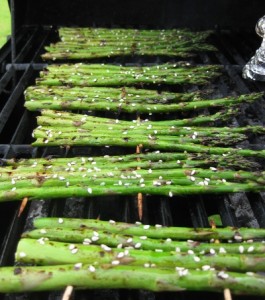 Finally, put the asparagus groups on a hot grill and grill for 2-3 minutes on each side. They shouldn't need much.
Most meats will taste better if you let them rest for 5 minutes after taking them off the grill, so that is the perfect time to put your asparagus on. They'll both be ready to eat at the same time.
As I said above, I found this great idea of using toothpicks to connect the asparagus together in How to Grill. It has a ton a great grilling ideas for almost anything you would want to cook on the grill. I highly recommend it. Click here for more information.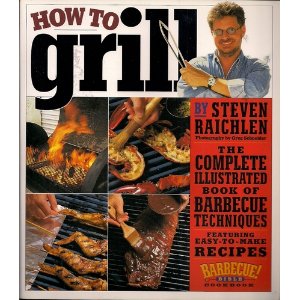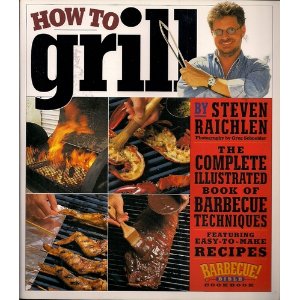 If you've never grilled asparagus, give it a try! I think you'll really enjoy it.

P.S. For more grilled vegetable tips and tricks, see my ebook, Grilled Vegetable Magic, available in Kindle Format or PDF format.