Grilled hot dogs are an American tradition. Who hasn't enjoyed a hot dog, fresh off the grill, at a backyard barbecue, or picnic at the park? They are easy to grill, kids love them, and you can get really creative with the toppings.
There are lots of different kinds of hot dogs, including beef, pork, chicken, and turkey. If you haven't tried some of these types of hot dogs, pick some up next time at the store and try something different. Try a natural casing "deli style" hot dog with all meat and no fillers. You'll be surprised at the difference!
The Magic...
For added flavor, brush the hot dogs with a little canola oil and sprinkle with salt and pepper or other seasonings before putting on the grill.
Click
here
for more magic!
There are many
regional hot dog variations
which can give you lots of different ways to dress your hot dogs.
To grill hot dogs, it's best to have a medium hot fire, so whether you are using charcoal or propane, get the heat going. Some people like to score the hot dogs before they grill them. Take a knife and make score marks on the hot dogs. Don't cut too deep, but you can make a pattern. Kids love to do this, particularly if they helping to cook dogs, because they can keep track of their hot dogs on the grill.
Grill the hot dogs until they just start to slightly blister and have great grill marks on them. Turn them over so that all sides get heated. Remember hot dogs are already cooked, so it's just a matter of heating them up.
Just before the hot dogs are done, you might want to put the buns on the grill to warm them up. You'll love the extra flavor that toasted buns give. Make sure to watch them carefully so they don't burn! Check out this quick, easy
bun griller
, that you can make in a few minutes.
Once the hot dogs and buns are done, it's time to dress them up. Toppings really do make the dogs. You can get very creative here and try lots of things. My favorite hot dog toppings are ketchup, mustard, diced onions, and pineapple tidbits (I'm pretty simple). Chili dogs with chili, diced onions, and cheese are another all-time favorite.
A fun thing to do at a barbecue party is to spread a table with lots of choices for things for your guests to put on their hot dogs. Some ideas include:
Cheese
Different types of relish
Different types of mustard
Jalapenos
Guacamole
Bacon
Chili
Sauerkraut
Chopped Tomatoes
Grilled onions
Different types of seasonings (celery salt is the secret to the Chicago Hot Dog)
Banana pepper rings
Pickle Spears
Here are some other sites that have great ideas for creative toppings for hot dogs:
Hot Dog Recipes - Hot Dog Toppings
Favorite Hot Dog Toppings
Gourmet Hot Dog Toppings
Favorite Hot Dog Toppings
9 Strangest Hot Dog Toppings in America
Next time you grill hot dogs, try some different toppings and see if you don't like hot dogs even more!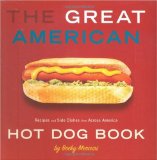 .P.S. For even more great hot dog grilling ideas, see
Great American Hot Dog Book, The: Recipes and Side Dishes from Across America