One would think cooking on the grill might be pretty safe. But you could be wrong.  You could have things happen like this:
or this:
or this:
This was definitely NOT the way to light a grill!
Most of these accidents were just from people being stupid, to be quite honest.  Think about where you are grilling and don't put flammable liquids on a flame!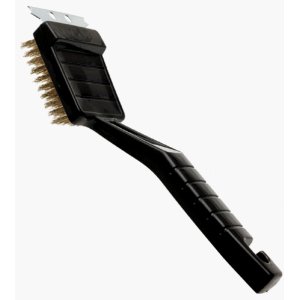 All kidding aside, there is one problem that you need to be aware of and it definitely can happen to any of us.  I've seen it mentioned recently on the news, and remember seeing it last year as well.  People are having to go to the emergency room because they have ingested a piece of metal bristle from the brush that they use to clean their grill.
What happens is that as you clean your grill right before you put the meat on, a metal bristle can fall off and become stuck to the grill.  You put your steak or hamburgers on the grill right on top of the piece of wire, and it becomes embedded in the meat, ending up inside you when you eat.
Here is a recent story, but if you search on the internet, you can actually numerous examples of this happening.  And a Rhode Island hospital has started a study about this problem:
So what's the solution?  Here are a couple of ideas:
Don't use a brush with metal wire (seems obvious, doesn't it?).  There are utensils made of other substances other than metal, and even grill cleaning stones that you can use.  Heck, you could even use a bit of crumpled aluminum foil, if the grill wasn't super hot.
If you must use a brush with wire bristles, make sure that you wipe the grill with a damp paper towel to remove any bristles that might still be there.  Or if that will be too hot, clean the grill with the brush right after you get done cooking.  Then, before you cook next time, wipe the grill with a damp paper towel to remove any of the bristles.
You shouldn't be completely alarmed, but you should be careful.  A trip to the ER, could make the last steak you grilled the most expensive steak you ever grill.