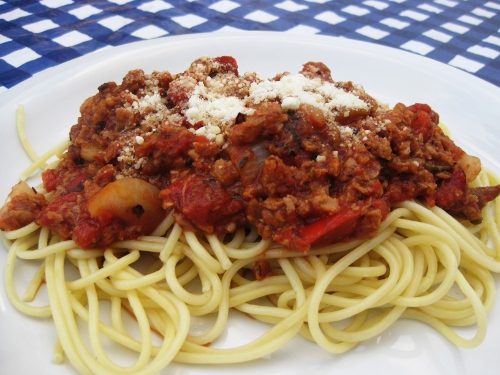 Outdoor Cooking Magic Challenge #4, and I'm cooking Hearty Spaghetti from 501 Delicious Heart Healthy Recipes on my grill.  Actually I cooked the spaghetti noodles in a dutch oven, but the sauce is done completely on the grill.
In order to cook dishes like this on your grill, you'll need some type of pot that you can put in the grill and leave there, something similar to a pot that you might put in your oven.  In my case, that was a deep cast iron skillet.  These work so well, because the are great a retaining and distributing heat and since there are no other parts other than the cast iron, it can be put on a hot grill without worry.
What makes this dish healthy is that it uses vegetable crumbles instead of hamburger or sausage.  I found these in the frozen section of the supermarket.  They actually tasted pretty good.  The only difference was the texture as they tended to break up and absorb the moisture more than hamburger or sausage would have.  I said on the video that I even think we might have fooled my sons, had we served it to them.
I added a little bit of smokiness to the flavor of the sauce by adding a foil packet of wood chips on the grill to smolder and let off some smoke.  That added a nice flavor.
Here's the final recipe that I used:
Author:
501 Delicious Heart Healthy Recipes
Recipe type:
Entree, Pasta
Prep time:
Cook time:
Total time:
Pasta dish, cooked on the grill.
Ingredients
12 ounces spaghetti, uncooked
2 cloves garlic, minced
1 onion, chopped
1 cup sliced mushrooms, optional
1 14 oz can no-salt-added stewed tomatoes, undrained
1 6 oz can tomato paste
1 cup water
1 12 oz package all-vegetable burger crumbles
¼ tsp salt
2 tbsp dried Italian seasoning
Instructions
Cook pasta according to package directions. Cook in a 12" dutch oven, with about 3 inches of water. Leave out the salt and oil. Drain.
Coat a cast iron skillet with 1 tbsp oil, and add the garlic, onion, (and mushrooms if you have them);cook about 5 minutes stirring occasionally.
Add foil packet of wood chips to grill, to create a smoky flavor.
Add tomatoes, tomato paste, and water.
Add vegetable crumbles, salt, and Italian seasoning.
Reduce heat on grill and allow to simmer for 10 minutes.
Serve over the pasta with Parmesan cheese if desired.
And the video:

P.S. Are you cooking along with me?  You really can cook anything outdoors.  An invaluable resource in doing that is a Dutch oven, so if you don't have one of those in your outdoor cooking toolkit, get one today and see how it can make things easy and versatile for you.
P.P.S, Here's the cookbook that I got this recipe from: