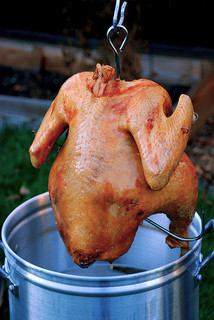 I've actually never deep-fried a turkey.  From what I hear, they are pretty amazing, so it's definitely on my list of things to try one day.  I've heard that you have to be pretty careful, because of the big pot of very hot oil that you use to deep fry the turkey.  There must be a lot of precautions that you must take to ensure that it is done safely.  Like make sure the base of the heat source is stable.  And that there isn't anyway someone, including a child, could knock it over and severely burn themselves.  You also want to make sure that they turkey is thawed out and dry.  Water and hot oil don't mix.
Here's what happens when you try and deep fry a frozen turkey.  Warning--don't try this at home!  This was done under a controlled environment.
Have you deep-fried a turkey before?  Give us some tips of what to do and what not to do?