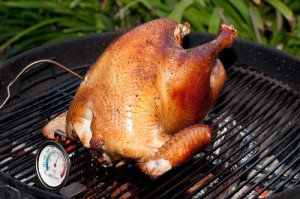 Thanksgiving is almost here, and some of you may be wondering if you can grill your Thanksgiving Turkey.  Absolutely! Not only will grilling your turkey give it a fabulous flavor, but it will free up your oven for the other baking you need to do for Thanksgiving.  You may never cook a turkey in the oven again!
So here are some of the very best posts from around the web with great ideas to show you how to grill a turkey using different techniques.
How to Grill a Turkey on a Gas Grill
60% of Americans own a gas grill, so most of you are probably wondering how you would barbecue your turkey on a gas grill.  Whole Turkey on the Gas BBQ by the Chef at Granny's Poultry gives some great instruction on the mechanics of using a gas grill for grilling a turkey.
Thanksgiving Turkey on the Grill from the boys at PigskinGourmet.com is a funny video that has some useful tips for grilling a turkey for Thanksgiving, as well as some other "interesting" holiday tips.
How to Grill Your Turkey on a Grill gives great tips for thawing, trussing, and grilling that Thanksgiving turkey on your backyard gas grill.
How to Grill a Turkey on a Charcoal Grill
Dave at BBQ My Way provides some instructions and a recipe for
Grilling Turkey
with a Weber kettle grill and includes a useful (and amusing) video on how he grills his turkey.
This Detroit Free Press article gives some very basic info on how to Grill your Thanksgiving turkey for golden skin and smoky, moist meat using a kettle grill.  Be sure to check out the great left sidebar that has planning ahead tips, plus recipes for wet and dry brining your turkey.
The folks at Butterball suggest some easy, step-by-step directions on how to cook a turkey under 18 pounds using the Outdoor Charcoal Grill Method and the Outdoor Gas Grill Method.
Brining a Turkey
The Smokin' Buzzards have written a great post detailing Brined & Barbecue Smoked Turkey.  Scattered throughout are several of Juancho's BBQ Tips with lots of useful advice.
Grilling your Thanksgiving dinosaur: live-blogging the bird tells you how to brine your turkey in a trash bag and grill a turkey with briquettes.  There's lots of photos and an awesome bonus section with cool science stuff about pneumatic cavities in turkeys and brachiosaurs!
Dry Brining a Turkey
In The California Cook: Our best turkey tweak yet, the LA Times food editor gives great tips on grilling a 15 lb. turkey with briquettes and explains why he changed from using a wet brine to a dry brining rub.
How to Smoke a Turkey
This Smoked Turkey tutorial gives very detailed instructions on smoking a turkey from start to finish with all the various steps involved.  Don't miss the list of all the turkey information available on the site.
If you're interested in a little more scientific presentation on Smoked Turkey, check out this article from the National Center for Home Food Preservation at the University of Georgia.  It gives all the details of brining and smoking a turkey, plus links to other interesting topics like canning, freezing, pickling, curing, and jams and jellies.
How To Smoke Turkey - Smoked Turkey Tips from Brad gives some great instructions using a water smoker and charcoal to smoke a turkey, but be sure to read the comment at the bottom praising an electric smoker as the smoker of choice.
To add a fantastic flavor to your smoked turkey, check out these wine barrel staves. These staves are oak wood from red wine barrels.   Toss a couple of staves on a hot bed of charcoal or on a gas grill, directly over one of the gas burners under the grill grate, and you'll have the extraordinary flavor of oak smoke with red wine.
How to Cook a Turkey on a Rotisserie
This blog gives instructions on how to Rotisserie Turkey using brining and a gas grill.  If you have a charcoal grill, here's some instructions for Rotisserie Turkey, Dry brined with Orange and Spices.  You can compare wet and dry brining techniques and choose your favorite.
I hope you take the opportunity to cook your turkey on the grill this Thanksgiving. Remember, you may never cook your turkey in an oven again!

P.S. for some delicious grilling tips and recipes, including tips for grilling a turkey, see Weber's Charcoal Grilling: The Art of Cooking with Live Fire.