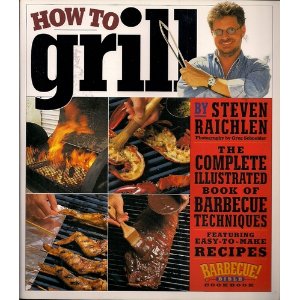 I recently came across the book How to Grill: The Complete Illustrated Book of Barbecue Techniques by Steve Raichlen. I loved it. What I liked most was all the ideas and techniques for grilling almost any type of food.
There are over 1000 photographs that show each technique in detail. And each technique is accompanied by a recipe. And the recipes are actually something that I would eat. I don't usually get into the extremely fancy gourmet recipes on the grill, so the first thing that I look at in a book is for recipes that I think I would eat. And this book has them!
I utilized Steve'e technique for grilling asparagus, as shown in my post, Grilled Asparagus - A Delicious Grilled Vegetable. The results were great and I look forward to trying even more of the techniques outline in this book.  In fact, it is full of the "how to's".  You'll find a bunch of new ways to grill and bbq all sorts of different types of foods.
What The Barbecue! Bible is to inspiration, How to Grill is to technique.  You'll be shown how to grill just about any cut of meat.  It will give tons of help to the beginner and at the same time will give some challenges to the expert. If you own just one grilling and barbecuing book, How to Grill may be it.
If you would like more information about this book and see the what others have said, click here.

P.S. For more of my favorite outdoor cooking books, see below: