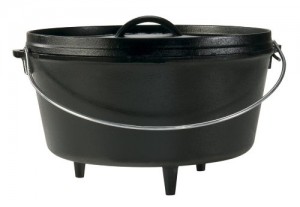 If you are interested in cooking outdoors and want to do more than cooking on a grill, the next thing you really, really need to get is a dutch oven.  Dutch ovens are so incredibly versatile that you can cook just about anything in them.   When I recommend a Dutch oven, there are two brands that stand out, Lodge and Camp Chef.  You generally can't go wrong with either one of those.    I'm going to focus on the Lodge brand here and particularly the Lodge Logic 8 Quart Dutch Oven and let you know all I know about it.
Here are 5 reasons to buy Lodge Dutch ovens:
Lodge Cast Iron Dutch Ovens are made in the USA
The Lodge foundry in the small town of South Pittsburg, Tennessee (population: 3,300!) makes some of the finest cast iron in the world.   If you want to buy American, buy Lodge!
Lodge Cast Iron Dutch Ovens are great quality
The Lodge folks have it down to a science.  They've been making it long enough--over 100 years.  If you stick around making something that long, you are bound to be doing something right.   In fact, there are 100 year old Lodge Dutch Oven pieces that are still in use!  If you look at the Lodge Cast Iron Dutch Oven reviews on Amazon, they are always reviewed very highly.  The Lodge Logic 8 Quart Dutch Oven has 108 reviews at this time, and 102 of them are the highest rate, a 5!
The Lodge Logic 8 Quart Dutch Oven is Preseasoned
When you get a Dutch oven, you want to cook in it, right?  It used to be that you had to spend several hours seasoning cast iron cookware that you bought.  It was a time consuming, messy, smelly,  but absolutely necessary process.  No more!  The Lodge Logic 8 Quart Dutch Oven, like most of the other Lodge Dutch Ovens come pre-seasoned, so you can take it straight out of the box, rinse with hot water, apply a thin coat of oil, and start cooking!
The Lodge Logic 8 Quart Dutch Oven is a Great Size
Ok, so maybe it isn't perfect.  But it's probably one of the best sizes, unless you are just cooking for a couple of people.  It holds enough for you to be able to cook for 8 people.  At 12" in diameter and 5" deep, it's perfect for doing desserts, breads, stews, whole chickens, just about anything that you want to cook.  When you get much larger, the dutch oven gets reaaaaally heavy, and when you get too much smaller, you can't cook much in them.   The 8 quart, 12" diameter, 5" deep Lodge Logic Dutch Oven is as close as you can get to the perfect size.
The Lodge Logic 8 Quart Dutch Oven Works Great with the Volcano Grill
The Volcano Grill is probably the best accessory to add to your dutch oven outdoor cooking arsenal.  It provides the best environment for cooking with a Dutch oven.  And the Lodge Logic 8 Quart Dutch oven fits into the Volcano Grill perfectly.  They are an ideal match.
Well, that's five GREAT reasons to get the Lodge Logic 8 Quart Dutch oven for your outdoor dutch oven cooking needs.  And there are lot's more.  Let's just say that you can't go wrong buying a Lodge.  Just make sure that you get the Lodge Dutch Oven that has a rimmed lid, like the Lodge Logic and you'll have the ideal outdoor cooking piece of equipment.

P.S.  Check out the other great Lodge Dutch Oven products below: