Unless you are like me and grill and bbq all year long, Memorial Day is the traditional kickoff of summer and of the grilling season. It's a great day to remember those that have given their lives for our freedoms and to get together with family and friends to cook some great food on the grill and enjoy some time together.
Here are some ideas and suggestions for your barbecue on Memorial Day.
Hamburgers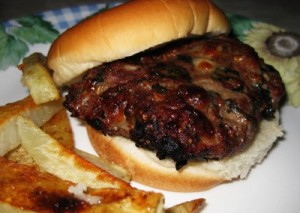 Hamburgers are one the most popular dishes to cook on the grill.   The Spinach-Mushroom Burger is a juicy, delicious burger if you are looking for something slightly different than the normal hamburger.  If that isn't your thing, there are many things you can do to make plump juicy hamburgers (see 12 Ways to Make the Juiciest Burgers).