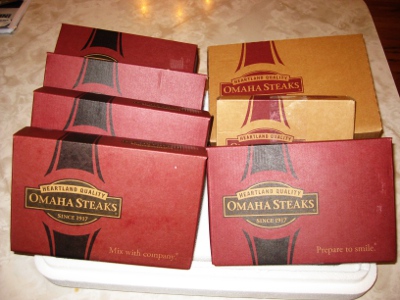 Just this last week, for Father's Day, my wife got me a surprise - a delivery from Omaha Steaks!  I've heard of them, seen them on their website, and wondered about trying them, but had never done it.  My wife found a deal online and ordered an Omaha Steak package to be delivered a couple days before Father's Day (hint--it makes a GREAT Father's Day present).
I've tried the Sirloin Steaks and Stuffed Baked Potatoes (which came free with her order), but she also got me Filet Mignon
(or Beef Tenderloin Steaks), Omaha Steak Burgers, Chicken Breasts, and Gourmet Franks in the package.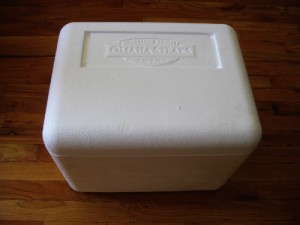 Everything came packed in a cooler with a hefty chunk of dry ice on the bottom to keep everything frozen.  And it was--everything was completely frozen when it got here and the dry ice actually didn't completely disappear until the next day, so you need not worry about whether the order can get delivered to you with everything still frozen.
The steaks and potatoes that I've had so far were delicious and I'm looking forward to everything else.  This was definitely the best tasting gift I've ever gotten (OK, the case of Bill Johnson barbecue sauce that she got me one year was pretty close--love that barbecue sauce!).
Although they are Omaha "Steaks", they also every kind of pork, poultry, seafood, sides
, desserts, sauces, seasonings, basically everything you could want.   They even have pet treats
!
You can also get gift certificates, if you are not sure what you should get and let your gift recipient choose what they want.
So if you are looking for a birthday gift, Father's day gift, Christmas gift, or something for any other special occasion, check out Omaha Steaks--it will probably be their best tasting gift ever as well!

P.S. Omaha Steaks often has specials running--those are hard to beat.  Here's one that is going on right now:
Shop Omaha Steaks for the 4th of July and get $4.44 shipping, 4 Free Omaha Steaks Burgers & 4 Free Gourmet Jumbo Franks on orders of $76 or more. Valid 06.18.12 - 07.06.12