This grill will definitely make you unique in the neighborhood! I doubt any of your friends or neighbors will have this grill.
When you go to a park for a picnic and need to do some grilling, what do you use? If you have a portable charcoal grill, you may take that grill with you, but more often you'll just use one of the charcoal grills that are in the park.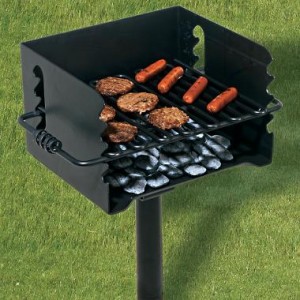 Now you can have of these same park-style charcoal grills right in your own backyard. Everyone who visits your backyard will ask where you got it. And you'll be able to grill hamburgers, hot dogs, steaks, or anything else on it just like you do at the park.

The grill allows you to adjust the temperature with an adjustable charcoal pan. You'll also have plenty of room for grilling with a full 224 square inches of grilling space.
If you are looking for something unusual or different for someone who likes to grill or barbecue, check out the Park-Style Charcoal Grill.

P.S.
For other grills that you can use over a campfire, check out three
camping grills
you can use anywhere you can have a campfire.