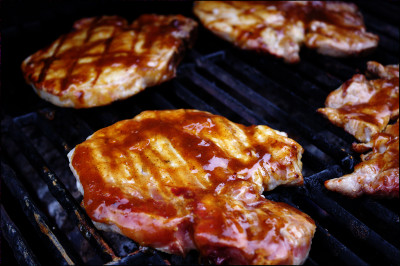 Here's a quick, delicious glaze to go on pork chops.  It takes just a few minutes to make and will give those chops a great flavor:
Peach Glazed Pork Chops
Prep time:
Cook time:
Total time:
Peach glaze on grilled pork chops
Ingredients
½ cup hickory flavored barbecue sauce
⅔ cup peach preserves
1½ tbsp corn syrup
1½ tsp prepared mustard
¼ tsp ground cloves
6 bone-in pork loin chops (3/4" thick)
½ tsp salt
½ tsp pepper
Instructions
Get your grill going nice and hot.
Combine the barbecue sauce, peach preserves, corn syrup, mustard, and cloves in a small bowl and mix. Set aside ¼ cup of the mixture.
Sprinkle pork chops with the salt and pepper.
Oil the grill grates with a paper towel soaked in oil.
Grill the pork chops on the grill over medium-high heat with grill covered. Grill about 4-5 minutes each side.
Baste both sides with the sauce and cook until meat is 150 degrees.
Remove and let me stand for 5 minutes.
Brush on remaining sauce just before serving.
Here's the final result!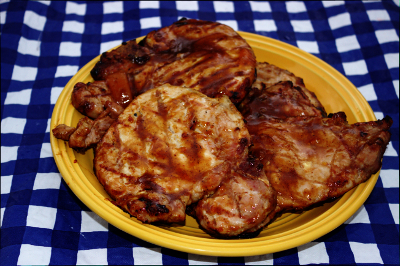 Enjoy!