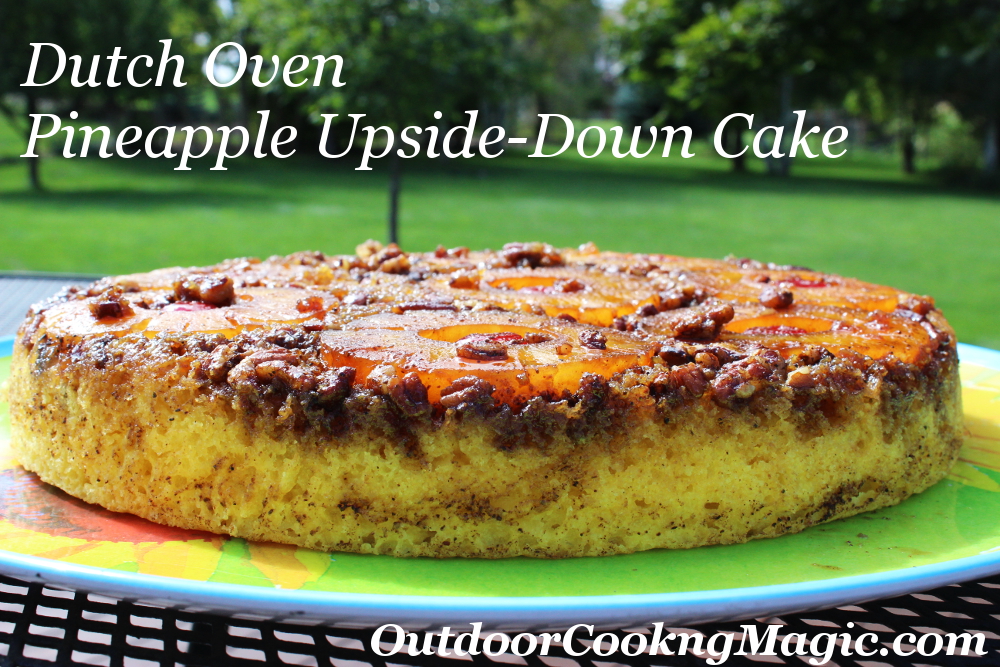 One of the most popular and easy dutch oven desserts to make is pineapple-upside down cake.  It looks great, tastes delicious, and is super easy to make.  The only difficult thing is figuring out how to flip it over when you get done!
To start, get your coals going and your Dutch oven heating up.  Melt butter in the Dutch oven, add brown sugar to the melted butter and stir.   I also added a bit of nutmeg and cinnamon.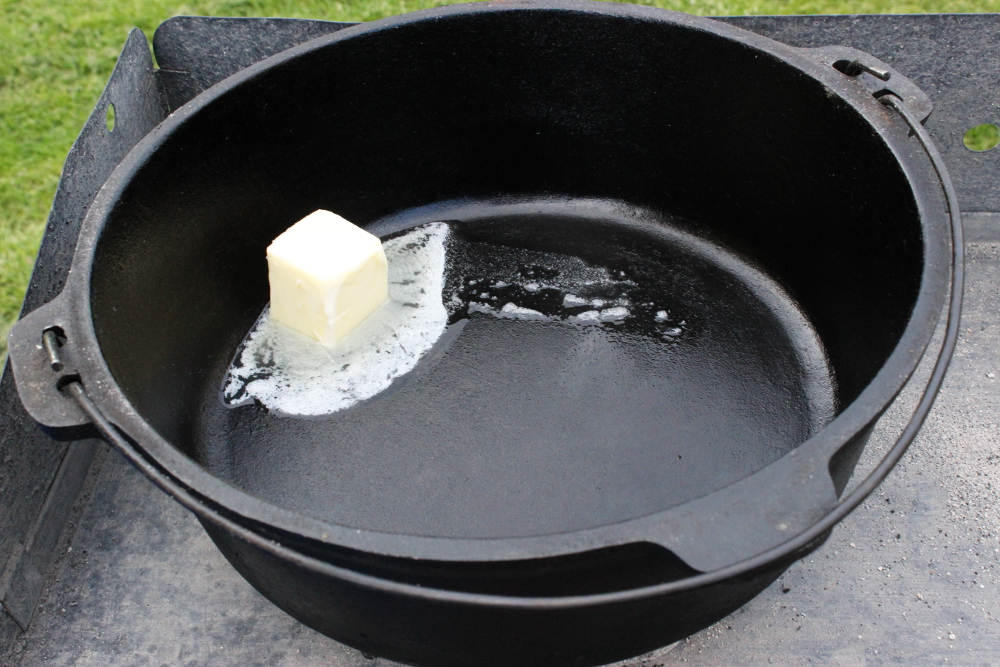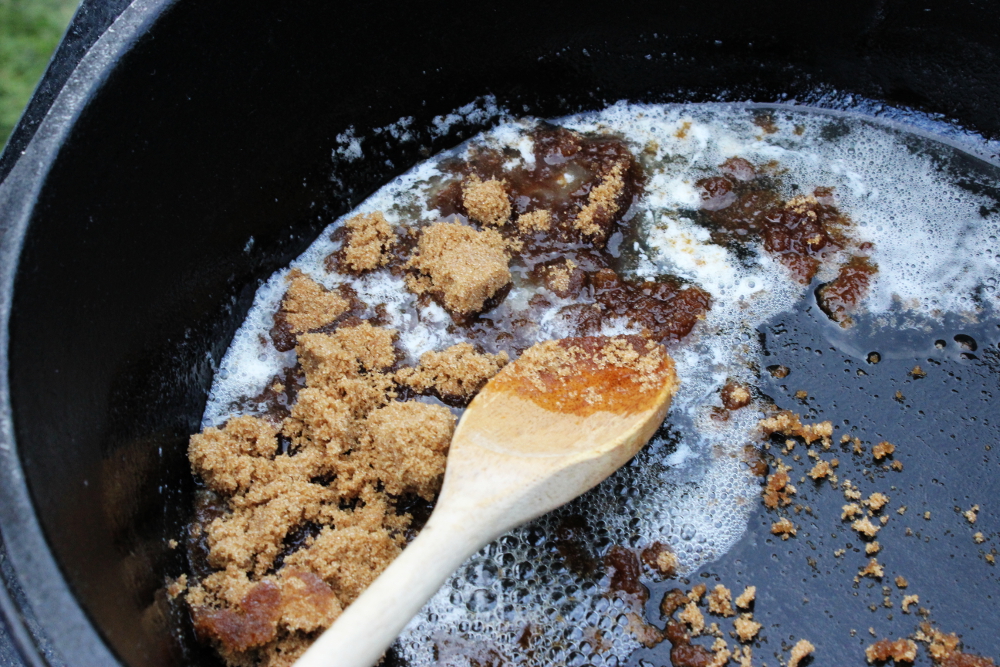 While the butter is melting, mix a box of yellow cake mix, oil, eggs, and the juice from a can of pineapple rings.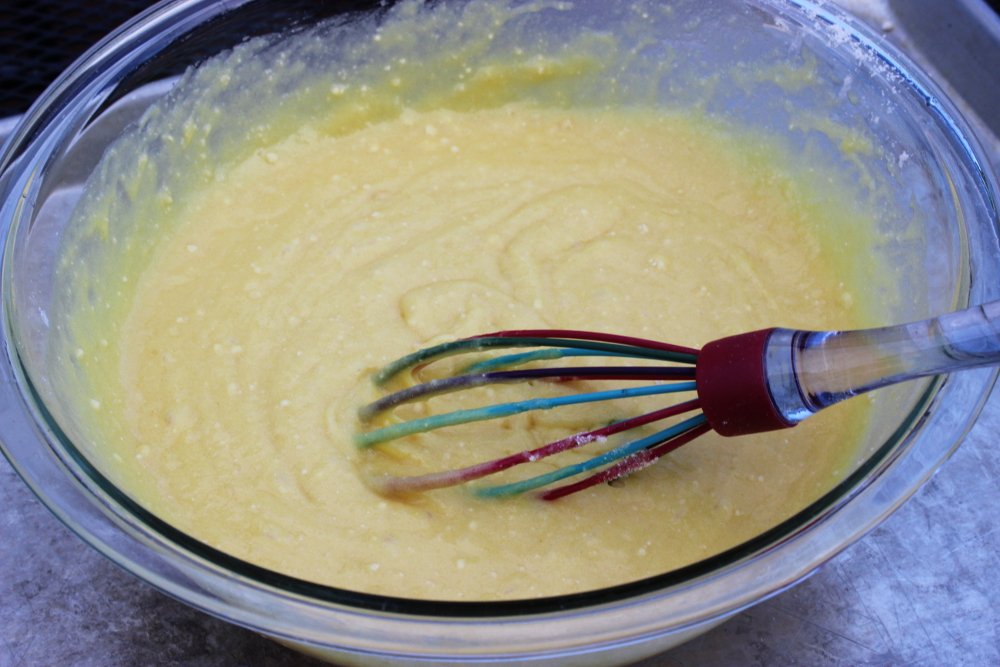 Once the brown sugar/butter mixture is ready to go, put 7-8 pineapple slices in the bottom of the Dutch oven.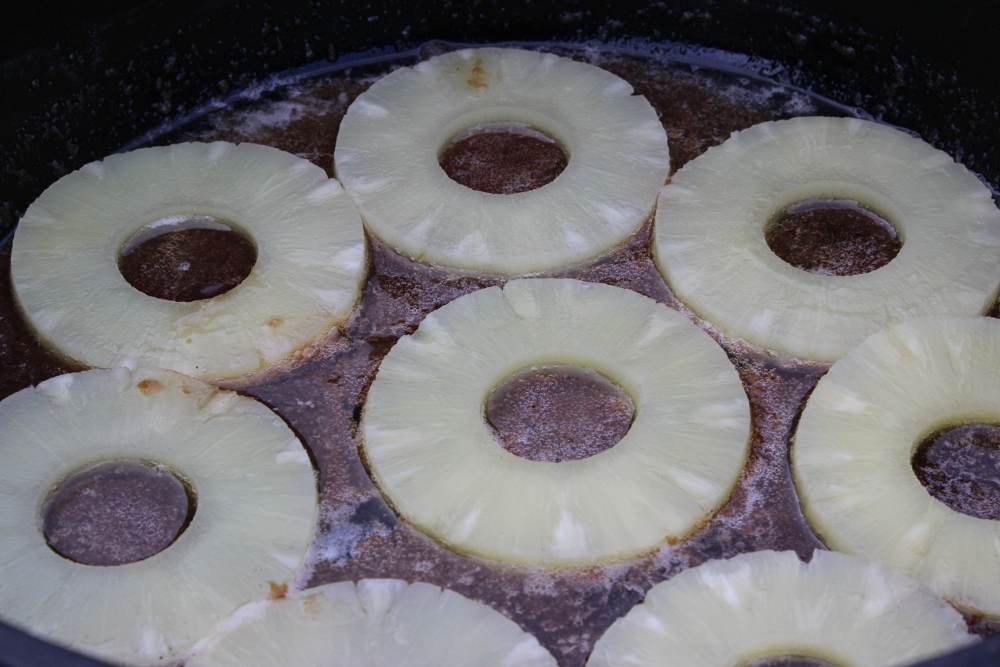 Put a  maraschino cherry in the center of each slice.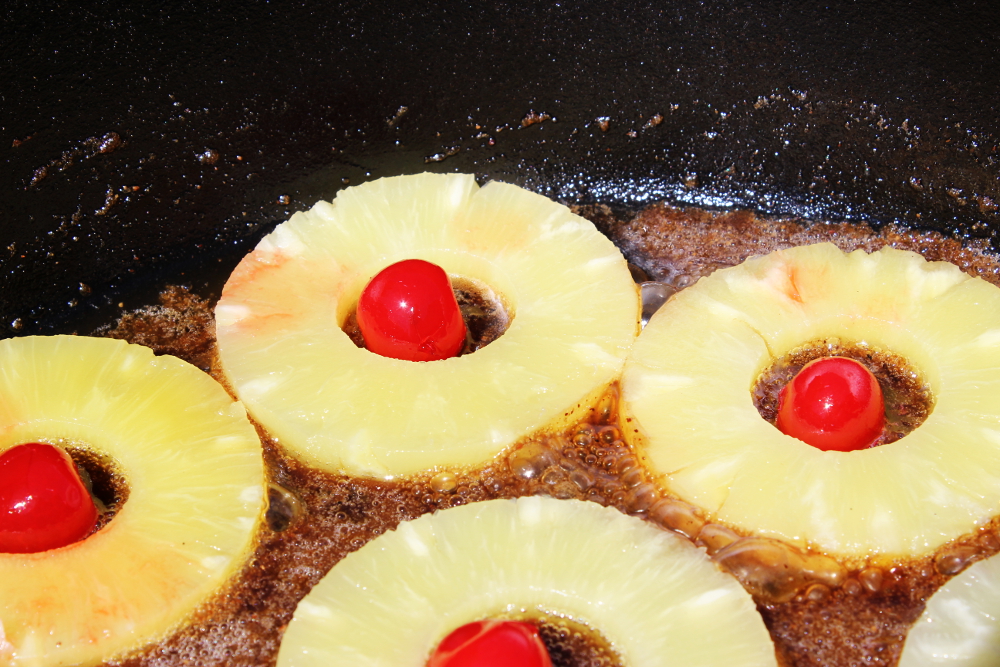 Next I sprinkled some chopped pecans over the pineapples and brown sugar mixture.  This added another layer of flavor and texture.  When i flipped over the cake, the pecans were between the pineapples slices and the cake.
Now pour the cake mixture into the Dutch oven, covering all the pineapples.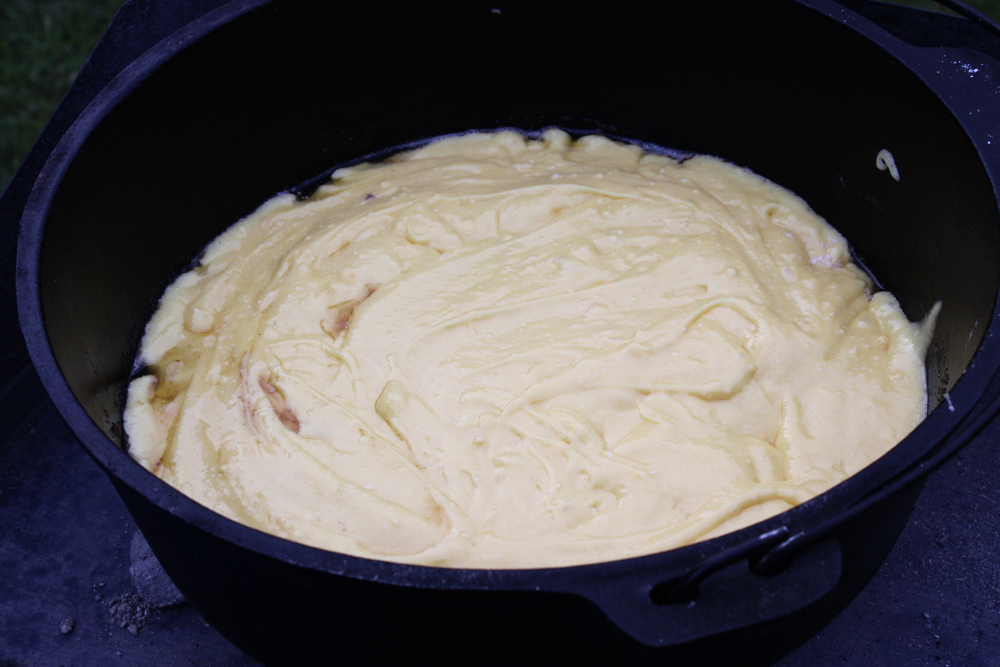 Put the lid on the Dutch oven, with coals on top and let it bake! I end up using about 10 coals on the bottom and 16 coals on the top of my 12" Dutch oven.
Every ten minutes or so you'll need to rotate the Dutch oven 45 degrees in one direction and the lid 45 degrees in the opposite direction.  This helps reduce the chance of overcooking an area because of hot spots.
Let the cake cook until done, using a toothpick to test.  When it comes out clean, the cake is ready!
Remove the Dutch oven from the coals and take the lid off.  Let it cool a bit to make things easier to handle.
Now comes the tricky part.  And I totally screwed it up the first time--I ended up with my hand slipping and the cake just kind of slid out, not upside down, and landed half on the plate and half off.  Fail!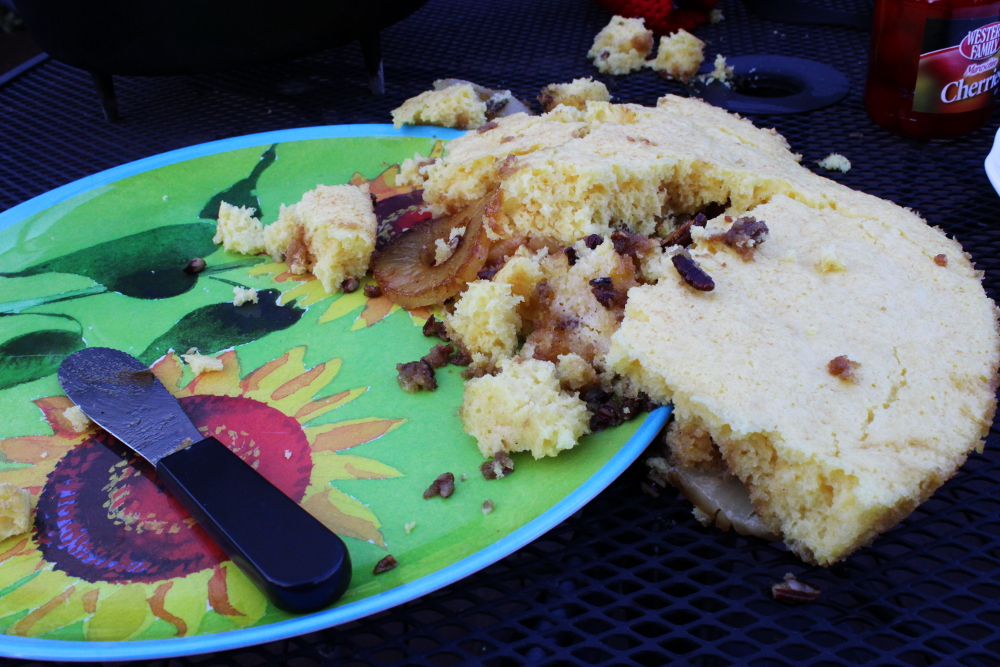 So the next time, I practiced flipping ahead of time.  For me, it worked well to put the plate that I was going to serve the cake on upside on top of the Dutch oven.  Then, with one hand, I used a hot pad directly under the Dutch oven, and the other on top of the upside down plate, applied some pressure and then quickly flipped the whole thing over.  I lifted the Dutch oven off and voila!  Dutch Oven Pineapple Upside-Down Cake, as it should be.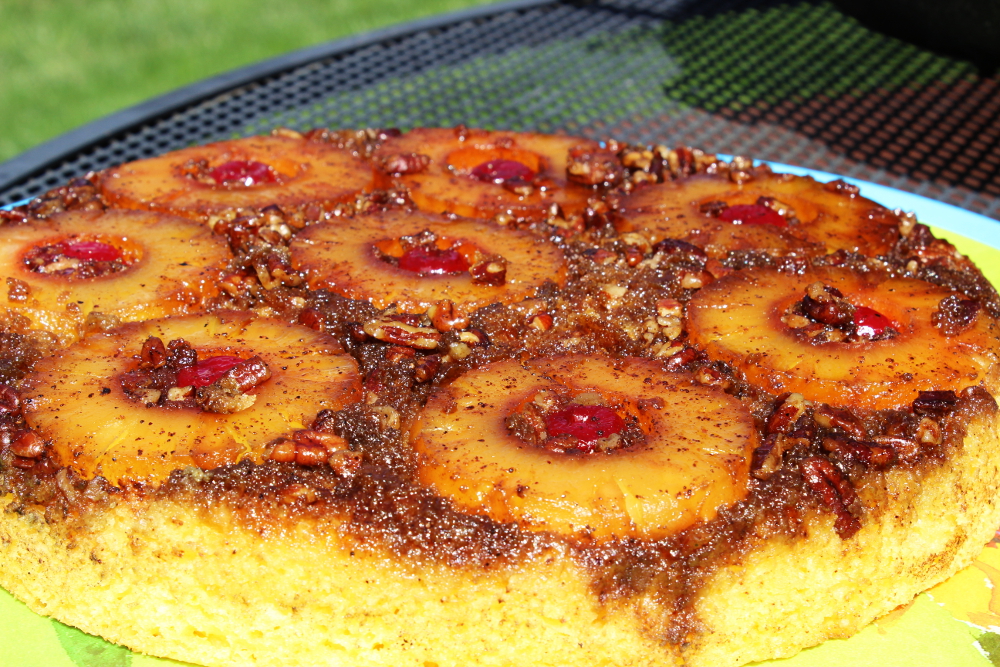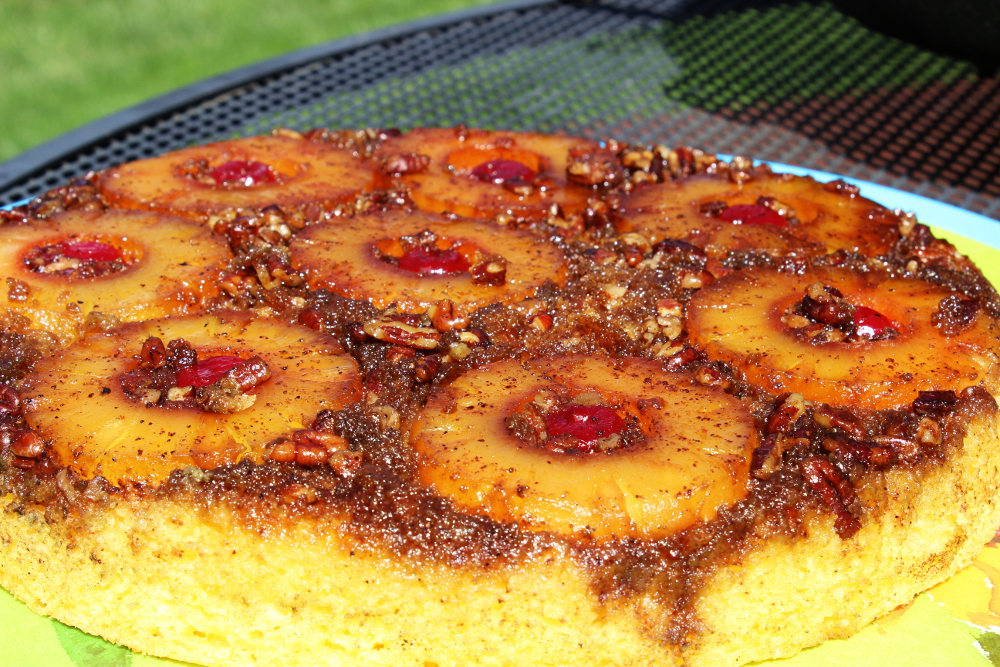 A little whipped cream and you have an absolutely delicious dessert.