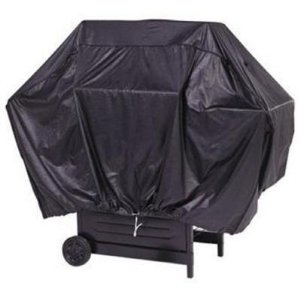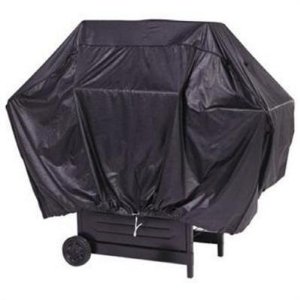 If you've made an investment in a grill (like when I recently bought my Char Griller Duo Model), you will want to protect it. A simple way to do that is with a grill cover. Using a grill cover regularly will greatly expand the life of your grill.
A grill cover will protect your grill from the elements. Left out in the rain and snow, moisture can cause rust to form on the metal parts of your grill and the sun can cause deterioration of the non-metal parts. This reduces the life expectancy of your grill. Protecting it is easy with a grill cover!

If you have a charcoal grill, water can also get into the bottom where the left over ashes are and harden into a something that is very hard to get off.
Pollen, leaves, even animals that decide to make your grill a home can make keeping your grill clean and ready to use a big problem. I've even noticed that wasps sometimes start making their homes inside my grill! While a grill cover won't prevent all of that, it makes things a little bit more difficult and may reduce the unexpected surprise of opening your grill to a bunch of annoyed wasps!
Of course, any grill cover is better than nothing. If all you can do is get a tarp and a couple of bungie cords, then do it. That will protect your grill much better than just leaving it out in the open.
The best grill cover is probably one that is made just for your grill. It will fit more snugly and do a better job of protecting your grill. All the major grill manufacturers have them available. Here are places you can find grill covers for each of the major brands:
If you want to get even fancier, there are lots of grill covers decorated with your favorite sports team, or a variety of other subjects and interests. These make great gifts for someone who has a grill and is passionate about their team.
Major League Baseball Grill Covers
College Team Grill Covers
NFL Grill Covers
NBA Grill Covers
NHL Grill Covers
Here's hoping you find the perfect grill cover for your grill!