It's time for another Question of the Month.  It's a bit late, actually.  I'd like to try the Question a little bit differently this month, and see how it goes.  Usually, I send out the Question of the Month to my email list, gather their responses, and then create this post.  I'm changing things up.
I'm still going to email my email list, but this month, I'm going to give them a link to this post, and then ask them to go here and add their response to the comments.  I'll do the same with my Facebook page, Twitter followers, and you who are reading this page.
Why am I changing?  Several reasons.  
First is that it will get you the responses from my email list quicker than waiting for me to wait for the emails to come in, compile the post, and publish it.
Second, I'm hoping we'll get even more responses by engaging with our Facebook friends, and Twitter followers.  I'd love to see a bunch of responses to these questions each month.
Third, it will make it easier for us to comment and add to the answers that everyone gives.
I know that most of you have some thoughts about the questions that I ask and almost always I get some great responses.  Thanks!  I love sharing what people send me with rest of you.
I'll still accept email responses from my email group and will post those in the comments as well.
Ok, enough of that.  Now for this month's question:
What Is Your Favorite Vegetable To Grill?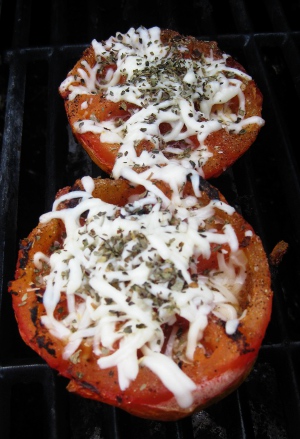 I know that grilling is traditionally meat.  And there is no question that I love meat that is cooked on a grill!  But we need to eat our veggies and what better way to make them taste great than grilling!  I even wrote an ebook on Grilling Vegetables.  I have some favorites.  But what are yours?
Here's some things that I'd love to hear about:
What is your favorite vegetable to grill?
Do you have some secrets or tips for how you grill it?
What seasonings do you use?
What do others think about the vegetables you grill?
Perhaps you don't cook veggies on the grill?  Why not? 
You can add anything else you'd like to tell us about cooking vegetables on the grill.
Let's hear it in the comments below!

P.S., If you haven't checked out my Grilled Vegetable Magic book, you'll find tips and tricks for delicious grilling for 10 different vegetables.  It's available as an instant download PDF file or as a Kindle Book.