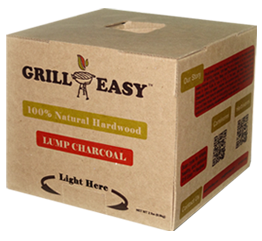 I had the opportunity to review a product that I had not see before, the GrillEasy Natural Lump Charcoal.    Thanks to Alex from Grill-Easy.com for sending me a sample to review.  If you haven't grilled with natural lump charcoal, you definitely need to try it.   While regular charcoal briquettes have their place, lump charcoal can take your grilling to a whole new level.  It's been awhile since I've grilled with lump charcoal, so I enjoyed taking the opportunity to do it again.
So what is GrillEasy Natural Lump Charcoal?  Basically, it's 2 lbs of 100% natural lump charcoal that comes in a box that you use to light the charcoal.  Hence the "Grill Easy" name.  I think the whole approach is intended to not have to mess with hauling a bag of charcoal to the park with you if you are going to have a cookout there.  It also provides this convenient way of lighting the charcoal.  No need for a charcoal chimney and definitely no need for lighter fluid (you should know by know that you should NEVER use lighter fluid, unless you like that extra flavor that it gives to your food !)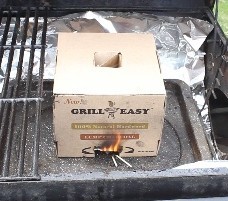 The GrillEasy Natural Lump Charcoal box has a strip on the bottom that you pull off to open up a chamber for airflow to help get the charcoal going.  After you remove the strip, set it on the charcoal grates, and light where it says "Light Here!"  In 15 minutes, the charcoal is hot and ready to go.  Actually for me it took a little longer.  I have this tray that I put in the bottom of the charcoal side of my grill to catch drippings from the meats that I smoke (with the attached side firebox).  So when I put the box down on it and lit it, there wasn't enough airflow to get things going well.  My fault.  When I realized that, I picked up the box which was already getting hot), removed the tray and put the box down on the grates below.   Things really took off then.  Even with that mistake, the box of charcoal was ready to go in 16-17 minutes, so it would easily have been ready to go in the 15 minutes GrillEasy claimed.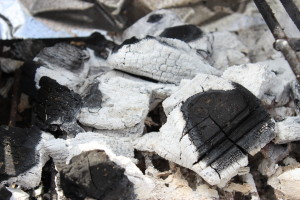 One thing about lump charcoal is that it burns hot, and this charcoal was no exception.  At 16 minutes, it was super hot, and ready for the steaks I had prepared.  The heat allowed me to sear them well and they came out fabulous.
Another thing about lump charcoal, at least the 100% natural kind, like this was, is that it imparts some great flavor to whatever you are cooking.  There are different types of lump charcoal, and each give a different flavor.  I had forgotten what a nice flavor it gives to steak.  They were delicious.  GrillEasy gets an A for that as well.
Overall, the GrillEasy Natural Lump Charcoal box performed great.  It was an easy-to-Iight box that was ready to go in 15 minutes.  I only had a couple of issues with it.  The biggest issue is that the cost is high compared to what you would get if you were buying the bag.  At the time of this post, a 2 lb box of GrillEasy Natural Lump Charcoal cost $8.99 with free shipping (which may not be forever).  It's pretty easy to find a 20 lb bag for about $15, plus or minus.  Was the quality better?  Don't know.  Could be.  I didn't have any complaints.  But in this case you are trading some cost for convenience.  If you are heading to the park, taking a box or two might be well worth it.  It's easy to light and you don't have to haul a large bag.   I'm not sure that I'd be as inclined to use it at home.  But on the road?  That's a different story.  If that appeals to you, or if you don't cook out that often, I'd give the box a try and see what you think.
The other minor issue is that one of the advantages is that you don't have the mess to deal with, like you would with a bag.  That's true. But as I turned the box around, looking at it, some of the small charcoal pieces slipped out through some small openings in the box and got on my clothes.  Sealing those up would have helped.  It's a minor thing, but one that you'll want to be aware of and just be prepared for some small pieces slipping out.
Overall, for performance, I'd give the GrillEasy Natural Lump Charcoal box an 8 out of 10, and for price, a 5 out of 10.
For more information, check out the GrillEasy website.  You can buy GrillEasy Natural Lump Charcoal here.  And check out my video review coming soon.