My wife loves kabobs and this is one of her favorites. It's super easy to do, tastes great, and everyone will love the combination and flavoring on the kabobs!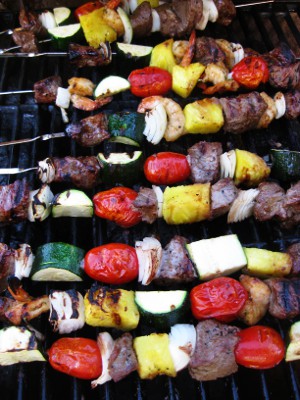 3 tbsp vegetable oil
2 tbsp soy sauce
1 tbsp red wine vinegar
1 tsp California style blend garlic powder
3/4 t Hot Shot! Black & Red Pepper Blend
1 lb Sirloin steak,cut into 1" cubes
Assorted vegetables (onion, squash, cherry tomatoes, green peppers, pearl onions, etc.)
Combine first 5 ingredients in large self closing plastic bag or shallow glass dish. Add steak and toss to coat it with the marinade.  Refrigerate 3 or more hours. Spear with veggies on metal skewers. Grill or broil 12-15 minutes, turning frequently.
I hope enjoy these as much as we do!