I know thisis going to be controversial for some of you.  I get that.  But sometimes you need a quicker way to cook things even though it may not be quite as good as it could be if you had longer.  I first ran into this with Dutch Oven Baked Beans.  I have a recipe that I love and everyone else does also.  But it has one problem.  It uses cans of pork of beans (I add other beans to the recipe as well).  That didn't sit well with some as you can see in the comments on that post!  Doing beans from scratch is the only way to go, they said.  So I tried it.  And they turned out pretty darn good.  But I don't always have time to cook beans from scratch.
So it is with ribs.  I LOVE how ribs taste when they have been sloooow cooked with smoke.  It gives them a great flavor.  But there are times when I might not be able to tend the fire all day.  So what are the choices?  An electric smoker is one.  A pellet smoker is another.  But both of those still take a long time.
So I decided to try the oven method today on a recipe from The Tailgating Cookbook
.  Basically, this recipe is for when you are heading down to do some tailgating before the football game and you want to have some ribs.  Usually you won't be able to sit up all night in the parking lot before the game and doing the low and slow rib cook.  An option is to precook the ribs in the oven, take them out and toss with some BBQ sauce, and then finish them off on the grill at the tailgate.
They weren't bad tasting; in fact they were pretty good.  They came out of the oven a little mushy, and cooking them over the grill a little bit longer would probably have helped.  So it isn't my preferred way, but if you don't have a ton of time, precooking ribs in the oven might be an option for you.
By the way, The Tailgating Cookbook
has some great recipes, including the Southwestern-Style Baby Back Ribs that I precooked in the oven, and Red Beans and Rice.  If you do any tailgating, or if you need to do some of the cooking at home before you head out for a day at the park, or in the mountains, or at the beach, and you can do a little grilling when you get there--this books has recipes tailor made for such activities.
Listen to these dishes and see if they don't get your mouth watering! Flank Steak with Chipotle Sauce, Grilled Peach-glazed Ham Steaks, Jerk Chicken Kabobs, Coconut Rice with Mangoes and Black Beans, Tuscan Vegetable Packets, and a ton more. Plus it has a bunch of tips for doing tailgate-style cooking.
Here's the recipe for the Southwest Style Baby Back Ribs that I cooked:
Southwestern Style Baby Back Ribs - The Quick Way
Author:
The Tailgating Cookbook
Prep time:
Cook time:
Total time:
Delicious, southwestern flavored baby back ribs
Ingredients
1 tbsp dried thyme
1 tbsp garlic powder
1 tbsp onion powder
1 tbsp brown sugar
1 tbsp paprika
1 tbsp chili powder
1 tbsp dried rosemary
1 tsp salt
1 tsp ground black pepper
1 rack of baby back ribs
2 cups barbecue sauce
Instructions
Mix the thyme, garlic powder, onion powder, brown sugar, paprika, chili powder, rosemary, salt, and pepper in a small bowl.
Rub the spice mixture over the ribs, both sides. (note that the original recipe called for three racks of ribs. I don't think that was enough rub, so I used this amount on one rack).
Wrap in plastic and store in the fridge for up to 8 hours (I did it for one hour--more would enhance the flavoring).
Heat the oven to 350.
Unwrap the ribs and place on a baking sheet. Cover tightly with aluminum foil.
Back for 1½ hours.
Remove the foil.
If you are taking the ribs with you for the tailgate, let them cool and store in fridge. until ready to go, up to 24 hours.
Just before you are ready to go, or if grilling at home, cut the rib racks into individual ribs and put into large resealable container.
Add all but ½ cup of the barbecue sauce and stir so that all ribs are covered.
When you are ready to grill, heat up the grill to medium heat.
Grill the ribs for 10 minutes, until they have a light char and are heated all the way through.
Turn them several times during the grilling and continue with mop with the barbecue sauce.
Serve them hot, with additional sauce if desired.
Here is the result: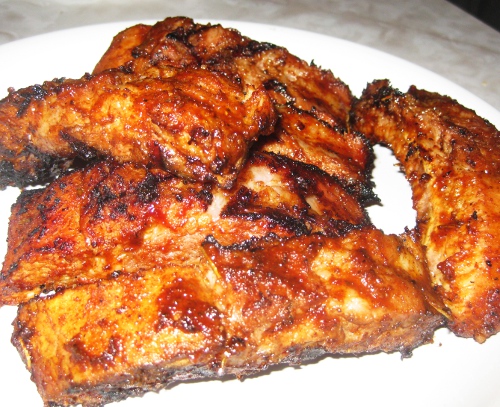 As I said, these didn't have the great smoky flavor that I love, but they are worth doing when you just have to have ribs!

P.S. For more recipes to make your tailgating go perfect, check out The Tailgating Cookbook: Recipes for the Big Game