After all the things we've talked about in getting started with dutch oven cooking, we are finally ready to cook!  In this article I'm going to give you several easy dutch oven recipes, recipes that you can get started with right now.  Remember that your dutch oven is very versatile and almost anything you can cook in your kitchen you can also cook in your dutch oven.  Some of that will come with experience, so let's get started!
Dutch Oven Cowboy Stew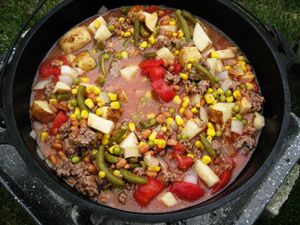 I think that one of the easy recipes to start with is a soup or stew, something that has a lot of liquid.  It's not easy to burn and still tastes great.
There are lots of soup or stew recipes for the dutch oven.  One of the easiest is what is called Dutch Oven Cowboy Stew.  I don't know what makes it cowboy stew, other than it's made primarily with canned goods, so it an easy recipes for which you don't need a lot of fresh ingredients.
The recipe, along with instructions and pictures is located at Dutch Oven Cowboy Stew.  So be sure and check that out.  But just to give you a glimpse, you brown some hamburger in your dutch oven (through in a chopped onion if you like), then add a can each  of corn, peas, tomatoes, beans, baked beans and tomato soup.  I also add some diced potatoes.   Some salt and pepper and a bay leaf top it out.  You basically cook until the potatoes are done.  That's it.  I found that my kids love it and is great for leftovers.
Dutch Oven Dump Cobbler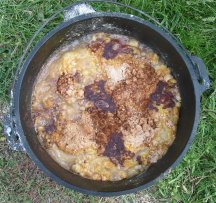 Dutch ovens are famous for desserts, so you'll definitely want to try a dessert in your dutch oven.  An easy recipe for desserts is Dutch Oven Dump Cobbler.  To make Dutch Oven Dump Cobbler, dump two cans of fruit pie filling, like apple or peach into your dutch oven. On top of that, add sprinkle a white or yellow cake mix.   Don't stir it!  Sprinkle the top with a couple of teaspoons of cinnamon and then cut 5-6 pats of butter on top of the cake mix.  Again, don't stir it (I know you'll be tempted!).  Put the dutch oven on top of 6-8 coals, and put 14-16 coals on top.  Back for about 30-45 minutes.  Rotate the dutch oven clockwise by 90 degrees every 10 minutes and rotate the lid counter-clockwise 90 degrees at the same time (helps eliminate hot spots).  Serve warm with whipped cream or ice cream.
Dutch Oven Mountain Man Hash
Dutch Oven Mountain Man Hash is a great breakfast recipe (although breakfast can be great for any meal, right?)   See details of this recipe at  Mountain Man Hash and a video at Dutch Oven Mountain Man Hash Video.  As I say in this article and video, this also makes a great breakfast burrito recipe.
Here are some links to some other recipes that are pretty easy to do:
But don't be afraid to try recipes!  There are tons of recipes for dutch ovens and lots of very easy recipes, as well as very gourmet recipes.  In a couple more articles, I'll point you to a number of great resources both on the web and in print.  You'll find all ranges of recipes for all types of food.
If you have a favorite recipe that would be good for a beginner to start with, I hope you'll share it with us in the comments below!
See below for all the articles in this series on Getting Started with Dutch Oven Cooking:
Be sure to sign up for the Outdoor Cooking Magic Newsletter to be notified when the next article is ready!
Make sure to follow my on Twitter and Like Me on Facebook!