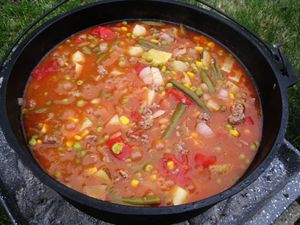 Recently I was at a conference where we were discussing outdoor cooking.  I was surprised at how many people had never heard of Dutch oven cooking, let alone actually cooked with a dutch oven.  After some discussion, I realized that most of the people I was talking with were from the Eastern United States.
I'm from the west, and Dutch oven cooking is big out here.  Maybe even more than big!  It seems like it isn't as popular back east.  I have a neighbor that has 8 or 9 Dutch ovens, and I've heard of someone else  that had 18 and even heard of one person that owned 100 Dutch ovens!  They must cook for some awfully large groups!
So it got me thinking about writing a series of articles to help someone get started with Dutch oven cooking.  The questions that I wanted to answer were those that someone who had never cooked with a Dutch oven might want to know.  So I sent an email out to my newsletter group (go
here
to subscribe) and asked a series of questions, and will be summarizing their answers, along with my own ideas, research, and experience, into this series of posts.
So, why would you want to cook in with a Dutch oven?  Quite simply, you can cook fabulous dishes of a large variety in a Dutch oven.  Just about anything you can cook in your kitchen on your stove or in your oven, you can cook outdoors in a Dutch oven.  You can cook soups and stews, meats, vegetables, casseroles, breads, desserts, breakfasts, and much more.  You can bake, boil, simmer, slow cook, fry, roast, deep fry, and more.  You can cook the simplest of dishes, or gourmet.  There is a reason that our pioneer ancestors brought this cookware across the plains.  Taken care of properly, a good cast iron Dutch oven will last 100 years or longer.
Here are the articles that will be part of this series:
I'll update these with links to the articles as they become available.  And I may even add in some other articles if I think of something else that would be helpful.  If you have other Dutch oven questions that you would like to see answered, please let me know if the comments below.

P.S., Be sure to sign up for the Outdoor Cooking Magic newsletter to be notified when each of these articles are available.