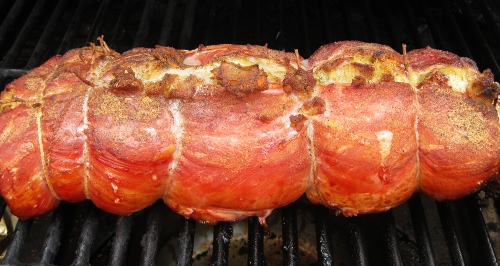 Just finished the food for Outdoor Cooking Magic Challenge #5, which was Fresh Ham with Stuffing.  I found out that fresh ham, which is uncured, is difficult to find, at least in my area.  So I decided to approach this a different way and use a pork tenderloin instead.  I figured that I could slice it lengthwise, put the stuffing inside, tie it up with string to keep it together, and smoke it in my smoker.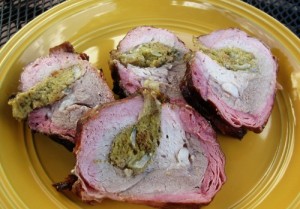 It was a winner, as my wife, Sue, said!  The smoking gave it a great flavor, the stuffing was nice and it had a great look with the smoke ring on the outside and the stuffing in the inside.
Here is the recipe I ended up using:
Stuffed Smoked Pork Tenderloin
Recipe type:
Entree, Meat
Prep time:
Cook time:
Total time:
Pork Tenderloin, smoked, with Stuffing on the inside
Ingredients
¼ cup butter
1 medium onion
1 package stuffing mix
1½ cups water
1 tsp sage
1 pork tenderloin
onion powder
garlic powder
salt and pepper
apple juice
Instructions
Melt butter in cast iron skillet on grill. Add chopped onion pieces and saute.
Add 1½ cups of water, slowly.
Add sage and stir.
Add stuffing mix and stir. Let sit 5 minutes.
Cut tenderloin lengthwise. Cut just past the center of the tenderloin, not all the way to the other side, so that the two halves are still connected.
Trim out some strips on either side of the tenderloin, lengthwise, to provide space for the stuffing.
Spread the stuffing the full length of the tenderloin.
Use string to tie up the tenderloin every couple of inches.
Sprinkle onion powder, garlic powder, and salt and pepper on tenderloin surface, as a type of rub.
Put on smoker and smoke for 2 hours.
After 2 hours, put a piece of foil underneath tenderloin and spray with apple juice.
Close the foil and seal tightly and cook for 1 hour.
Check with thermometer and remove when internal temperature reaches 180 degrees.
Remove from smoker, remove strings, slice, and serve.
And the video:
This concludes another delicious challenge.  Please try this recipe and let me know how it turned out for you.