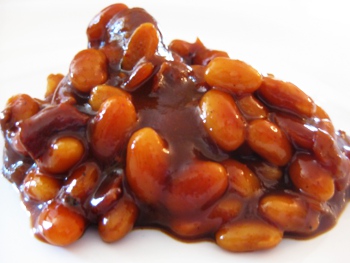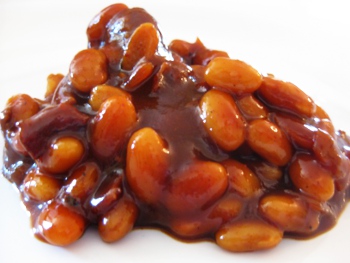 I've finally succumbed!  After being called out about going the easy way out with my Dutch Oven Baked Beans, I've finally taken a stab at making them from scratch, rather than relying on cans of pork of beans.
The result?  Pretty darn good.  Better than using cans of pork and beans?  Probably.
The time committment is more, although the extra time required is in soaking the beans overnight and then simmering them for a 2-3 hours, neither of which take a ton of oversight.   I'll admit that there is a certain appeal in cooking my Dutch oven baked beans from scratch, but there are times when I don't have time or want to deal with doing them from scratch.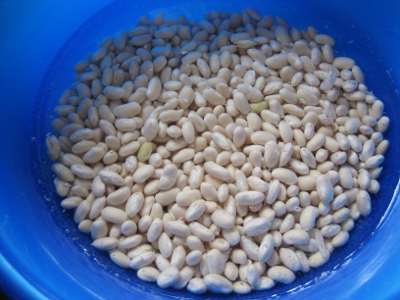 In reality, I usually don't use just cans of pork and beans, like my previous recipe said.  I double the recipe and add extra cans of various kinds of beans, like black beans, northern beans, and chili beans.  It gives some variety and makes the baked beans dish much better, in my opinion.    I need to update that recipe to show exactly what I do now.
Back to making these baked beans from scratch.  Here's what I did: I started with 1 pound of northern beans, put them in a bowl, covered them with water, added some salt, and let them soak overnight.
In the morning, I drained the beans, added them to a pot and covered them with water (4" above the beans).  I brought the beans to a boil, and then simmered them until the beans were tender.  That took me about 1 1/2 to 2 hours.  I probably could have cooked them a bit longer.  If the beans start to burst, they are done and you can remove them from the stove and drain.  Note that I could have done this part in my Dutch oven, but didn't--I cheated!  But a Dutch oven would be perfect for this type of thing because it holds heat well.  You would just have to keep feeding it charcoal.
While the beans were cooking, I cooked up some bacon, let it cool, and crumbled it up. I chopped up 1 cup of onions and minced 1 clove of garlic and added them to the pan used to cook the bacon. Cook until the onions are done.  After the beans were cooked and tender, it was time to get the Dutch oven ready to go.  I started some charcoal, poured the beans, onions, and garlic into a bowl, and added the following: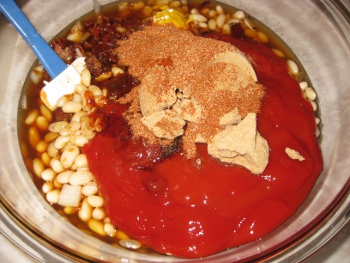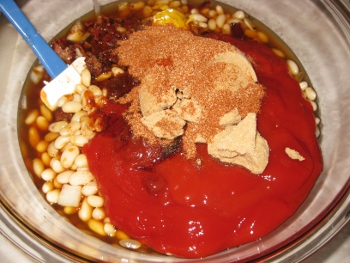 2 cups ketchup
1/2 cup molasses
1 cup brown sugar
1 tbsp Worcestershire Sauce
1 tbsp yellow mustard
1 tsp chili powder
1/2 tsp paprika
1/2 tsp salt
1/8 tsp mustard powder
1/4 tsp cumin
1 tsp black pepper
1/2 tsp garlic powder
1/4 tsp cayenne
I mixed all this up and then poured the mixture into my Dutch oven.  I put the Dutch oven on the briquettes that I had prepared, about 10 on the bottom, 14 on the top, and cooked until bubbling, about 1 hour.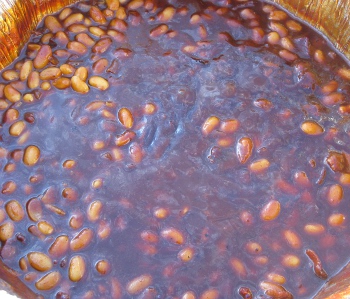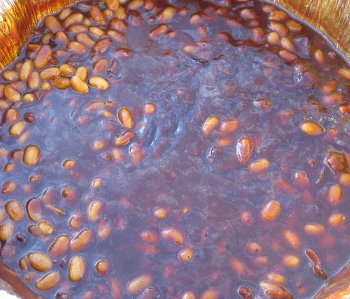 I had my parents over for dinner and got their thoughts on this recipe. Everyone liked it! They were pretty tasty and I enjoyed making them from scratch. I'm planning on trying some other flavors, but this was a great start. The only thing I'd do differently was to cook the beans a little longer before adding them to the Dutch oven.
I hope you try these. Cooking them from scratch isn't really any harder, just takes a little bit more time. And the results are great.

To find out more of my outdoor cooking magic tricks and recipes, make sure to sign up to get my free Outdoor Cooking Magic Tricks ebook.