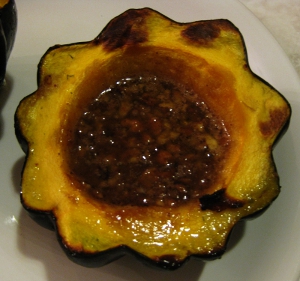 One of the benefits of grilling Thanksgiving side dishes is that it frees up your kitchen for other things and keeps most of the mess outside.  I scoured the web and found a lot of great Thanksgiving side dishes you could cook outside.  So if you aren't cooking your Thanksgiving turkey on the grill, check out what other dishes you could do on your grill.
Potato Side Dishes
Grilled Rosemary Sweet Potatoes - An easy,  delicious grilled sweet potato dish that uses a favorite seasoning, rosemary.  You can even  cook these ahead of time and then warm them up on the grill when you are ready to serve.  These will be a wonderful change from your standard Thankgiving sweet potato dishes.
Honey Grilled Sweet Potatoes - Another very easy, grilled sweet potato dish with honey.  Make sure to keep on eye on things so they don't burn.
Grilled Sweet Potato Fingers with Curry Dip - You could serve this grilled sweet potato dish as a main meal side dish, or it would go great as an appetizer.
Grilled Sweet Potatoes with Scallions - Another variation on the sweet potato, this time using scallions.  Do you get the hint that sweet potatoes might go really well on the grill?
Savory Grilled Potatoes - Here is a bit of an unusual way to prepare grilled potatoes, but looking at the reviews, they were a huge hit.  This dish is made with foil packets, with seasonings and other ingredients added, and then grilled.  Before you pass this one up, try it and see if you don't agree with the 200 people that loved this recipe.
Grilled Potatoes and Onion - Another great variation on the potato, but cooked on the grill. This is a great alternative to mashed potatoes, and is also done in foil packets with garlic.
Vegetable Side Dishes
Fall Vegetables on the Grill - Uses potatoes, sweet potatoes, and acorn squash, cut into 1" chunks and cooked right on the grill.  Gives the combinations of these three vegetables a delicious flavor.
Grilled Squash - You can grill almost any type of squash. Here are some basic guidelines for grilling squash, so choose your favorite and get it on the grill.
Barbecued Cabbage with Santa Fe Seasoning - If you are looking for something different from your typical Thanksgiving side dishes, barbecued or grilled cabbage might just be the answer.
Sweet Acorn Squash - As I said above, you can grill most squashes.  Here is a recipe specifically for acorn squash (see the picture at the front of the article to see this dish).  This is a fun and easy one to do, and reminded me a bit of some of the Thanksgiving sweet potato dishes I've had over the years.
Stuffed Acorn Squash - I've tried grilling acorn squash several times now, and it's becoming a favorite of mine.  Here's another delicious grilled acorn squash recipe that uses apples, brown sugar, and peanuts.
2 Fresh & Local, Flavor Bursing Dishes for Thanksgiving - This post has two dishes for you to consider grilling for Thanksgiving.  The first is another version of grilled sweet potato wedges.  I've grilled regular potato wedges for years, and now it's time to try grilled sweet potato wedges.  The other dish is a brussel sprouts dish.  It has bacon, pistachios and cranberries.  I'm not a big brussel sprouts fan, but with these additions, I might just have to rethink that.
Grilled Creamed Corn - I'm not a huge creamed corn fan, but if I cook it, using corn from the grill is definitely the way to go.  The grilled corn kernels will give the creamed corn and huge flavor burst.
Bread
Barbecued Bread - If you want to be really adventurous, here's complete instructions for baking artisan bread on the grill. This post has some great pictures and shows you want a little creativity and thought can get you.
Fresh Baked Bread on the Grill - Pillsbury tells you how to take a can of Pillsbury Country Italian Bread and cook it on the grill.  This would be a great addition to your Thanksgiving meal.
Emeril's Cast-Iron Honey Cornbread - Cook this cornbread in a cast iron skillet right on the grill while you are cooking other things alongside.
These are just some of the many possibilities.  Whether or not you are cooking your Thanksgiving turkey outside this year, why not try a few side dishes on the grill and see how you and your guests like them?  If you have grilled sides dishes for Thanksgiving before, I would love to hear what you have done--let me know if the comments below.