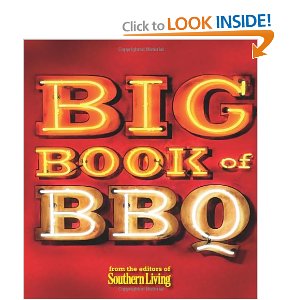 My wife got me The Big Book of BBQ: Recipes and Revelations from the Barbecue Belt
for Christmas, and I'm just now trying recipes from it.    I liked the Bacon Wrapped Barbecue Chicken Kabobs!  Time to give you some thoughts on the book.
First of all, although many so-called "BBQ" books aren't really BBQ, this one has both.  It has a lot about the art of low, slow cooking, as well as what it calls "Speed BBQ", which is code name for "grilling".  The book has lots of recipes covering everything from beef and pork ribs to sauces, rubs, and marinades, to drinks and sides for your BBQ meal.  You could get whole meals from this book.
Let me give you a list of some of the delicious sounding dishes from this book:  Texas-Style Smoked Brisket, Mesquite-Smoked Cornish Hens, Chile-Rubbed Steak with Corn and Red Pepper Relish, Jalapeno-Basil Pork Chops, Grilled Potato Salad, Watermelon-Lemonade Cooler, to name just a few.  Wow, my mouth is watering as I type all of the names of these dishes!
The pictures and side descriptions in the book are wonderful!  I loved the descriptions of the different regional barbecue styles as well as a listing of some of the best BBQ in some of the BBQ centers of the United States.    It was fun to see Black's Barbecue and Kreuz Market listed from Lockhart, Texas, since I had visited those restaurants last year.
Here's a couple comments from reviews on The Big Book of BBQ:
I am not one that likes to BBQ, but this book has so many wonderful beautiful recipes that I am trying. The taste is awesome; as I have stated on many occasions, you can can NEVER go wrong with any Southern Living Cookbook.
I picked this book up about 2 weeks ago and have made 4 of the recipes to rave reviews from my discriminating family. Like many passionate grillers, I have a couple of dozen recipe books. This book distingushes itself by containing simple recipes that take so little prep time, yet produce such unique flavors.
I think that you will not only really like the recipes in this book, but that you will LOVE the pictures and other side information.  It's what makes cookbooks like this fun to read.
Get The Big Book of BBQ here
!

Check out some of my other favorite outdoor cooking books!