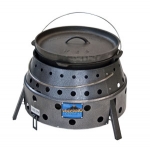 The Volcano Grill is the perfect portable outdoor cooking system. Why would you want one of these? Well, first of all, it is portable. The collapsible version folds down to a space of 5" high so it won't take up much room wherever you are going.
Second, you can cook with propane, charcoal, or wood with it. So whatever type of fuel you have, you can use!
Third, it is incredibly versatile. It's small size means that you can take it camping, boating, on picnics, to beach parties, Scouting trips, tail gate parties, Dutch oven parties. And even more impressive, whatever type of cooking you want to do, you can do it with the Volcano Grill. Do you want the quick cooking of a propane grill? It does that. How about the flavor of the charcoal or wood fire. You got it.
It holds the coals that you need for Dutch oven cooking. You can put a wok on it and do stir fry. You can use a fry pan with it, boil with it, steam with it, bbq with it.
It's perfect for a small fire to cook marshmallows or hot dogs on.
Finally, it is the perfect accessory for cooking with Dutch ovens, because of the focused heat that it provides. You'll save money on fuel.
The Volcano Grill has a patented design that funnels the heat from the coals right up to your Dutch oven, giving you the perfect environment for cooking with your Dutch oven where-ever you are.
Check out this video demonstrating the Volcano Grill:
Now click here to get more information.