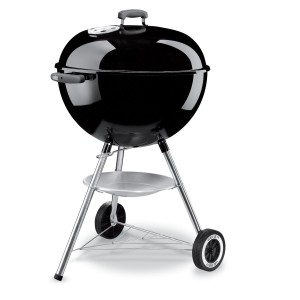 Yep, there are two questions for this month--I've not sent one out for awhile, and now there are two.  I'm looking for a new charcoal grill.  I currently have a Char-Griller Duo 5050 model, which has a gas chamber, charcoal chamber, and a side firebox.  It's been fun to grill on over the past 5 years, but it's time for something new.
I've got another post going on asking what gas grill I should buy--this post is for gathering information from my community about their recommendations for the charcoal grill I should buy.
I've decided I don't want a duo type grill anymore--not even sure if anyone other than Char-Griller makes one, but I'm going to buy two separate ones.
I have loved having the side firebox, even though there are some issues.  I'm not quite sure what I'll replace that with right now, but have some ideas that I'll be working on.
I have some thoughts about what I'd like for a charcoal grill, but thought I would ask for recommendations first and capture those here.
What Charcoal Grill Should I Buy?
Here are my questions:
What features should I be considering in a charcoal grill?
What charcoal grill brand and model do you currently have?
What do you like about your current charcoal grill?
What do you not like about your current charcoal grill?
What charcoal grill do you recommend, based your experience?
Please add your answers to the comments below.  Like the gas grill, after a bit, I'll use the feedback I've received and then decide which to buy.  I'll let you know what I picked and keep you up-to-date with my impressions and likes/dislikes.
Thanks for your help!

P.S. If you haven't seen the post on buying a gas grill, and can provide feedback, I'd love to hear your thoughts there as well.