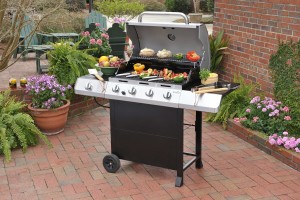 It's been awhile since I've sent a question of the month, and now I have two questions!  I'm in the market for a couple of new grills, one for gas or propane, and one for charcoal.  In this post I'm going to collect the feedback from my community and their recommendations for which gas grill I should buy.
My current grill is a Char-Griller Duo 5050 model and the propane side is giving out.  I had a leak start in one of the propane hoses that could have caused a big problem.  Things have been deteriorating and as I inspected the grill more closely, I realized that it would take a bunch to get everything replaced that needs replacing.  I decided that it was time to try something different.
I don't need something huge, but I don't want the smallest either.  I want something that I could use for a quick grill at night after work, but would also be used for grilling for a small family gathering, say 8 people.
I use the grill more than the average person, even though I've slacked off over the past year.  It's time to ramp things back up again.  In general, I'm a pretty heavy user.
As you can see from Outdoor Cooking Magic, I like to grill a variety of things, including all sorts of meats, vegetables, even fruits.  I also like to try cooking in cast iron pans on the grill.
What Gas Grill Should I Buy?
So here are my questions:
What features should I be considering?  BTUs? Side burner? How many burners? What type of grates?
What gas grill brand/model do you have now?
What do you like about your current gas grill?
What do you not like about your current gas grill?
What grill do you recommend, based on your experience?
I have thoughts about the answers for these questions, but I'd love to hear your answers!
Please add your thoughts to the comments below. I'm sure we'll have a great discussion going.
After I've had a little time to get some feedback from you, then I'll decide and let you know what I picked.  Then I'll keep you up-to-date with my impressions and likes/dislikes.
Thanks for your help!

P.S. I'm also going to be buying a new charcoal grill, so if you have one of those I'd love to hear your thoughts about what charcoal grill should I buy?